The Kiwassa shawl became the first victim of my Spring of Lace.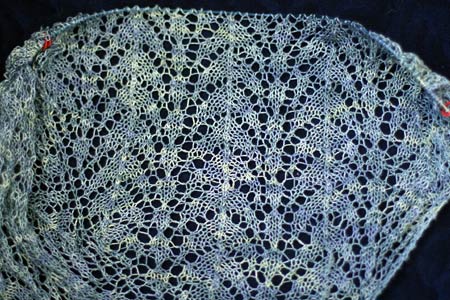 Even though I didn't find it particularly difficult to photograph the yarn in isolation (Schaefer Yarn Andrea in Greenjeans), I had to do a lot of tweaking on the latest batch of photos. And I can't even say that I'm unconditionally pleased with what you see here, but so be it. The navy blue background (my couch) probably made things only more difficult. But against a dark background you can make out the stitches perfectly clear, I think. Almost well enough to reverse-engineer the pattern???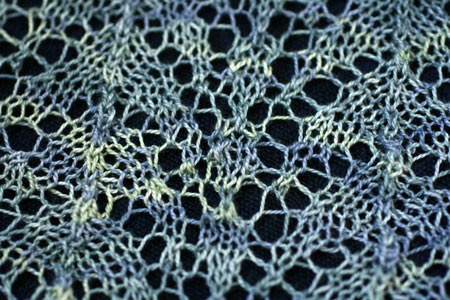 The fabric is flying off the needles, just as I suspected. To knit this shawl, I'm using Addi Turbo circs, size US 5. These needles are larger than I would typically choose for lace knitting – grandma's Crown Prince shawl is being knit on US 2.5 (3.0 mm) needles, in contrast. But I have to follow the pattern precisely for this sample, and larger needles certainly make the knitting go faster :).
The lace repeat is pretty easy to memorize, with each row emerging organically from the one below. All wrong side rows are return rows: half the work, twice the progress! I do keep the chart by my side, however, because I can't keep track of the way new stitches are incorporated into the sides of the triangle. Not a huge deal.

In addition to Kiwassa and other lacey commitments, something else managed to sneak in and interrupt my lace-only line-up. I simply couldn't resist the lure of the crocheted potholders swap. The colors! The kitsch! The crochet! It's really the polar opposite of fine lace knitting, don't you think? A girl needs a break from fancy laceweight yarns once in a while! Plus, something crocheted was one of my dangerous resolutions. I figure 5 potholders can't sway me too far off course!

0
likes