Simply couldn't wait for a Friday :).
About a month ago I read about the newest yarn from Lorna's Laces called Pearl on the LL blog. The story is that this silk/bamboo blend was developed as an "Amy-friendly" yarn. The Amy in question is of course Amy Singer, the editor of Knitty. Like me, Amy has allergies to animal fibers, so any yarn claiming to be "Amy-friendly" would need to be composed of cotton, silk, bamboo, linen, acrylic, soy, chitin, metal, milk protein, sugar cane, corn… just about anything not animal.
Side note: are yarns getting more and more edible nowadays, or is it just me?
Well, how about 51% silk, 49% bamboo? That would work!
I could hardly wait to try Pearl for myself. Almost immediately I knew the color I wanted: poppy (50ns). I fell in love with this orange-coral-red (or something like that) when I knit the Leaf Lace sock for Tiennie, eons ago. And I knew instantly that the poppy Pearl would become some sort of scarf. Knowing myself and how I like my scarves (not very large), I figured two skeins were in order. Plus, at $42.50/skein, two skeins was about all I could afford ;).
I contacted Linda, the proprietress of all things Lorna's at Birds-n-Yarn the very same day I read the blog post. She responded, "At the moment I'm not planning on stocking Pearl; I will, however, be happy to order any color for a customer if they would like it. I will probably carry it in the future." (You can contact Linda by e-mail at Birdsnyarn@aol.com.)
"Any color" includes poppy, of course. It took about 5-6 weeks from the moment I sent my e-mail to the day the yarn arrived on my door step.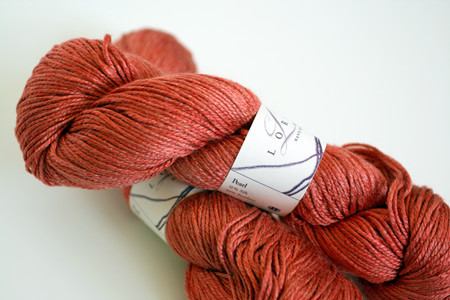 Lorna's Laces Pearl | Poppy (50ns) | 51% silk, 49% bamboo | 220 yards/100 grams
The poppy color looks a bit different with Pearl as the base yarn than it does with Shepherd Sock. It's more of a salmon or copper or terra cotta red, and it's lighter, but completely gorgeous in its own way, of course. I'm guessing the difference in color has to do with the way wool/nylon absorbs dye versus silk/bamboo.
From a technical viewpoint, this 3-ply, DK-weight yarn looks and smells like pure silk – shiny, slinky, and with a distinct green tea ice cream smell :). How is it different from pure silk? When I squeeze the skein, I don't feel or hear the crunching and squeaking that often accompanies pure silk. Also, the yarn seems more airy and light than pure silk. It seems to have more bounce and squishiness than a pure silk yarn would, though of course it's nowhere near wool or wool blends. How it will knit up is to be determined – I haven't tried yet, and my spring schedule won't allow an exception :(.
I have some ideas about a good pattern to showcase this yarn, though, mainly due to my discovery of Lyerka, a scarf designed by Kenny of The Boy Who Knits blog. Kenny designed Lyerka to specifically use only one skein of Pearl, and I think he did an absolutely superb job. I, too, wouldn't have chosen cables or ribbing or complicated geometric motifs like leaves, triangles, etc., for this yarn. I, too, would have riddled the scarf with yarn overs from left to right, top to bottom. His design is perfect for the yarn, and whatever I knit, I'll be sure to carefully compare my choice to his. Congratulations on a very smart design, Kenny!
0
likes