Physically, I'm spending the bulk of my knitting time working on the Kiwassa shawl. It's familiar, soothing, and not terribly demanding of my mental energy. So, while knitting the Kiwassa, I can't help but daydream about the Hot Pads and Potholders swap. In fact, and perhaps this falls into the TMI department, I've been dreaming about color combinations for the potholders I'm planning to crochet!
I've decided to use Tahki Cotton Classic for my potholders. Even though I don't have any TCC currently in my stash (save for a tiny amount left over after making Mr. Stegs), the purchase seems justified to me. A quick survey of my stashette revealed that I did not have enough skeins or color choices of any one variety of yarn.
My biggest stashes in terms of yardage and different colors are Gedifra Korfu (not allowed because of its acrylic content), Lorna's Laces Shepherd Sock (ditto), and sportweight Louet (superwash wool is also a no-no). So, I'd need to buy something new anyway. Having just tabulated my yarn expenses for 2008, this was okay with me, since I spent a truly pithy amount on yarn in the last calendar year. Time to shop!
Tahki Cotton Classic comes in pretty small and reasonably priced skeins, thus making a major stash enhancement possible both in terms of money and storage space. There are over 100 different colors available – visions of kitsch, here I come! – a good number of which are carried at a yarn shop close to me, Wild & Woolly Studio in Lexington, MA.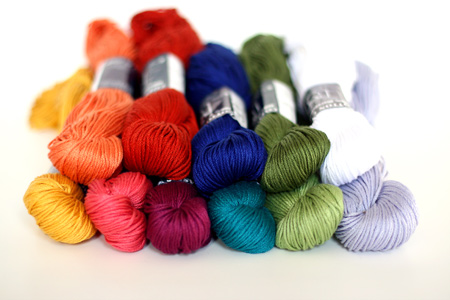 From left to right: 3549, 3352, 3453, 3407, 3418, 3873, 3786, 3703, 3701, 3001, 3933.
These colors came home with me. My only disappointment was the complete absence of the dark red-burgundy-brown family from the Wild & Woolly line-up. What's up with that? Those colors were major players in some of my potential color combinations! But I think I'll manage nonetheless :).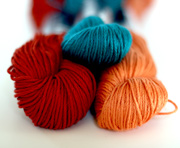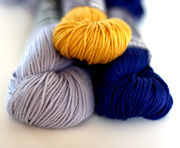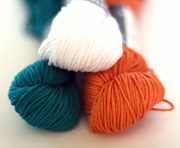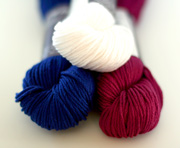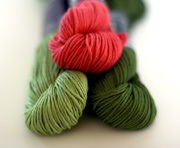 These are the five color combinations I'm currently considering. Completely subject to change, of course ;).
The continuation of a serious crocheting obsession would not be complete without some new tools and reading material, of course :).
To this end, I've ordered the Clover Getaway Soft Touch crochet hook gift set (excellently priced at Joann.com
, as is the corresponding bamboo set
, use code TTA76 for free shipping on purchases of $35 or more), Beyond the Square Crochet Motifs
, and 200 Crochet Blocks
.
The influx of new yarn, tools, and books is propelling me to work like the wind on the current projects!
0
likes