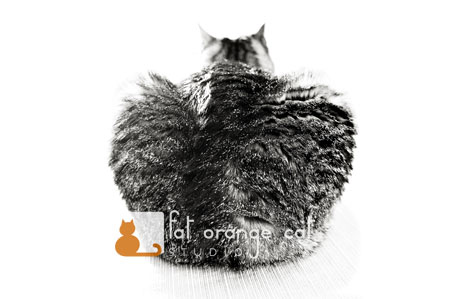 (This photo and all others are used with permission.)
My cat's bummus says I heart you.
Today I'm very happy to tell you about the grand launch of Fat Orange Cat Studio, pet photography for the best of 'em. Whether your pet is the cutest, the fluffiest, the smartest, the best behaved, or just the silliest, FOCStudio is the place to capture the essence of your ani-pal.
FOCStudio is near and dear to my heart because it's your favorite and mine, Ms. Domesticat, who started the whole thing. She's a long-time friend, fearless knitter, enthusiastic Red Sox fan, mixed cocktail connoisseur, mom to the fluff-tastic Bunny and Veebs (my favorite photo of those two), and most importantly, an extremely talented photographer of pets, yarns, and everything in between.
I'm so happy to see that she's found her passion, and is now realizing her dream with utmost professionalism. Starting a business is no joke! I mean, it's a joke to a lot of people, but not to Li. If you want a little history, take a look at how she chose the business's name, settled on a logo, and created her fab business cards. Then visit the FOCStudio blog to see how several months of photographing friends' cats and dogs morphed into an amazing portfolio. See? Professional!
Oh! While you're at it, enter to win some gorgeous yarn prints! Yeah, have I mentioned that Li photographed some of Sundara's yarn for her shop??? When hundreds of people count on you to show them the right color, you have to be amazing.
– – – – – – – – –
For me, all of this comes full circle because Li came over one day and photographed my Kitty. My furry love, my irresistible pile of floof, my stripy beast, my polydactyl princess.
Mushy, eh?!? It's Valentine's Day, so I'm going to allow it, just this once :).
It was an incredible experience because… well, I see my cat a certain way. I photograph her in a certain way. I find some of her looks and poses irresistible, and others commonplace. And here was this whole other person, a professional photographer, sporting way better camera equipment, having her own attention-getting tactics, seeing her own colors, angles, poses, movements… It was like seeing my cat for very the first time, all over again.
The photos were amazing. Mr. Sweetness and I were thrilled!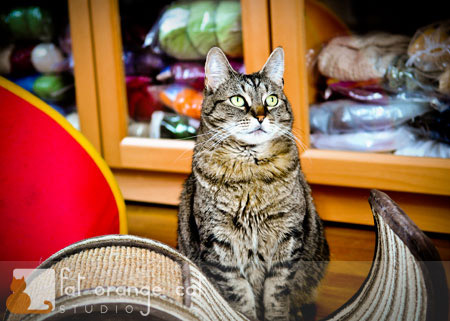 All yarn requests must go through me.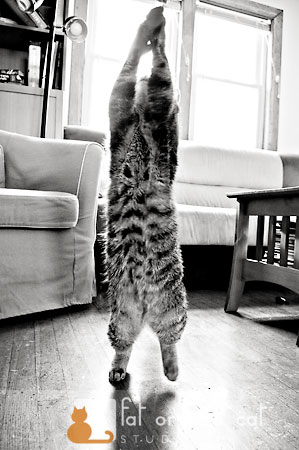 I'm *this close* to bipedalism. Soon I will don a tiara. Watch out.
We ordered a few prints, and honestly, I was shocked. I guess I'm used to seeing stuff online at the typical 72 pixels per inch. Looks great. And then you get a print, and it's like, what, 600 dpi? Holy moly! It's intense! It's beautiful! I must get prints more often!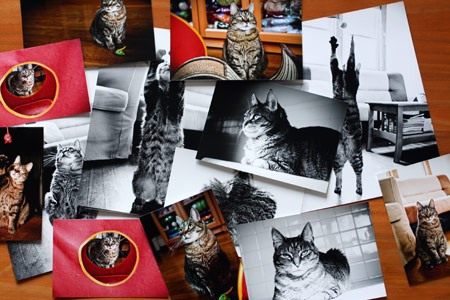 I wasn't able to admire the prints for too long, because before I knew it…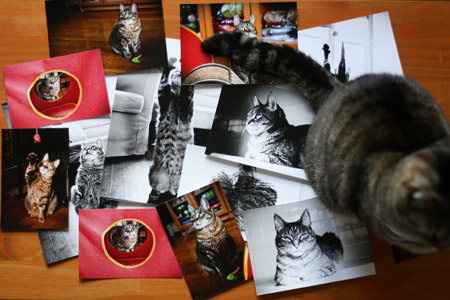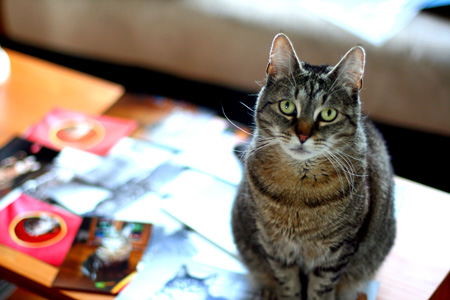 Are you photographing me while photographing photographs of me? You bore me, stoopid hooman.
Now Mr. Sweetness and I are faced with the humongous task of choosing which prints to frame, in what combinations, and where to display them. Fortunately Li just wrote a post about displaying prints (and how she photographs animals envisioning the framing "story" in advance!) using Kitty's mug (and rump) as examples! Notes have been taken.
Here's what we've got so far: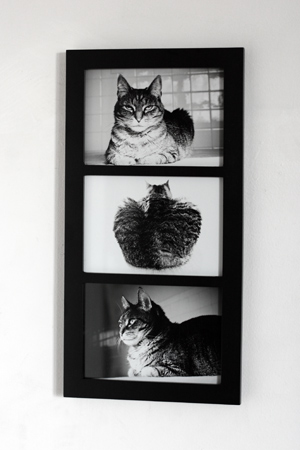 B&W 5×7 above my sewing area.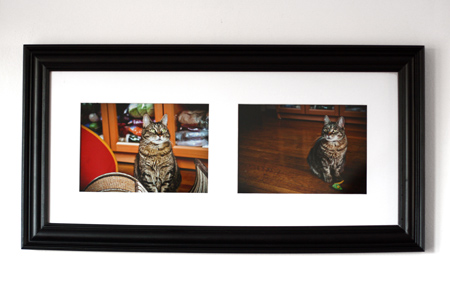 Color 5×7 in the living room.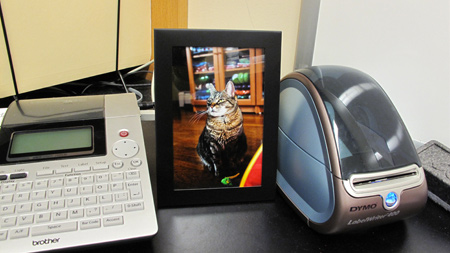 Shifty-eyed kitteh 4×6 on my desk at work.
Yes, between my Brother label maker and my Dymo one, I have a framed photo of my kitty. It is truly a place of distinction ;). Kitty's shifty-eyed expression mirrors my own a lot of the time :).
Now, the other prints… Mr. Sweetness and I are still deciding. We want to display as many of them as our small apartment can handle without, you know, appearing to be "crazy cat people." Because "crazy cat people"? That's definitely not us.
Meow.
0
likes