First, a quick thank you for stopping by and complimenting my Mother of Pearl scarf design! As I mentioned, it's been fermenting in my brain for a long, long while, and I'm happy to hear that you agree that it was worthwhile to unearth ;).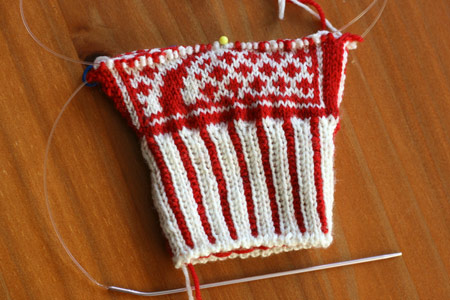 And now, on to mitten happiness! Happiness because I have finally started knitting the Lillyfield-Anemoi hybrid in earnest, and I love, love, love it!
To be perfectly honest, it took me a long time to get to this point. I had so many false starts, it's embarrassing. I think I had a whole week of just nonstop frustration! Sometimes it was simply moments of after-work dumbness. Other times I made poor choices. There was also the instance of totally misreading the directions. Plus training my right hand to purl took (almost) as long as training for a marathon. And let's not forget constantly second-guessing the size.
The sizing issue might actually be a helpful discussion, so let's talk about it a little more.
WIDTH
Basically, my helpful readers advised me that I might want to make my mittens bigger than the obvious "circumference of my hand."
Through Margene's post on mitten sizing I got a hold of Cathy-Cate (yeah, it's complicated), who had the following words of wisdom to share with me (edited for length and formatting):
The difference between gloves and mittens, is that gloves need to fit like (yes, wait for it!) a GLOVE for comfort and usability, but not

so mittens. A mitten needs to be significantly bigger than your hand to fit 'right,' if knit at usual mitten gauge (sturdier, denser fabric). Also, try holding your hand in mitten position with fingers together. Then hold it that same way for 60 seconds. Starts to get uncomfortable! You need room to spread and bend your fingers.
Same idea for length, a bit more is better: a mitten I made recently looked fine, was 1/2 inch or so longer than my hand, but in wear, the

tip of my middle finger kept touching the end, and it drove me crazy. I ended up ripping

and re-knitting it almost an inch longer and now it's great.
It's warmer too when there's a small shell of air around your hand to trap the heat (then that sturdy knitted layer to keep it in).
Cathy-Cate's thoughts were reiterated by many others.
One more thing to add, pointed out by Christy: "I think some ease around the hand is good for unlined stranded mittens so that you don't snag your nails or rings on the yarn." I hadn't even thought of that!
In summary, here are some reasons for knitting mittens with a bit of ease:
A pocket of air around the hand will create a warmer mitten.
Finger claustrophobia – not really as fun as it sounds.
(Specific to stranded knitting) A little wiggle room prevents fingers, nails, and rings from getting caught in the yarn.
(Specific to stranded knitting) Having ease prevents the colorwork from getting distorted.
What about my mittens? Had I incorporated enough ease? How much do I really need? When pressed, Cathy-Cate and Margene independently gave me the same answer – about ½ inch.
And wouldn't you know it, that's exactly what I had charted in my latest version of the pattern – my 7.5″ hand, going into a mitten that's 8″ wide. So, I'm staying with the 72 stitches I calculated earlier. Score!
LENGTH
For the length, I ended up deleting a few rounds, to be on the safe side. You see, I'm measuring my row gauge based on that teeny swatch – who knows if it's even accurate! (I'm still opposed to the idea of knitting an entire mitten for the sole purpose of measuring gauge.) And if it is correct, my mitten would be more than one whole inch longer than my actual hand. Ease concerns aside, more than 1″ sounds like total overkill to me.
Plus, take a look at the Lillyfield pattern – the beauty is all up top, near the fingertips. I would hate to knit to the very top, and then have to squish that section in order to shorten the length! On the other hand (ha!) if I'm running short, it's simple enough to add more rounds of the background motif. It's actually a very clever solution that's incorporated in the Anemoi design. That's why all those swirls are close to the wrist, I now understand!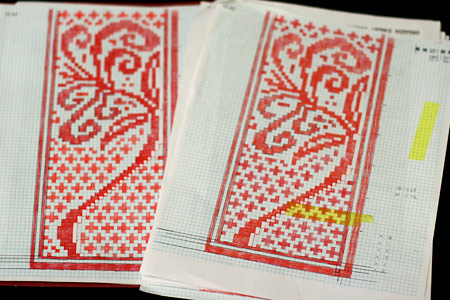 (the new lily is on the right)
I didn't think that I needed to re-chart the lilies in order to shorten the length. Instead, I just took out 6 rounds from the bottom of the design. Simply cut them out, and to my eye, their absence didn't change a thing. Onward!
THUMB
We all agreed that incorporating a gusseted thumb was the best choice in this pattern merger. So, I didn't think about the thumb until I had knit the cuff (see below) and reached the very stitch that required increases. At this point, I simply followed the Anemoi instructions for inserting the gusset (where to increase, the method of increasing, how quickly, until how wide) but used the patterning of the Lillyfield – 1-stitch stripes. So far, so good!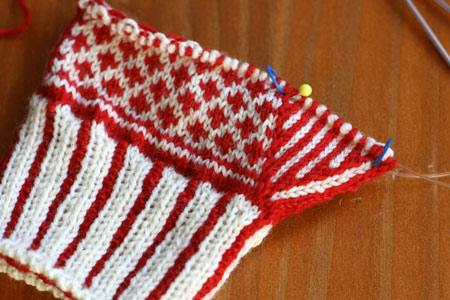 CUFF
I did not forget those of you who strongly advised me to make a longer cuff! I'm with you – I hate short cuffs! Plus, I have several "bracelet-length" sweaters and one jacket which likes to ride up on my wrists: long mitten cuffs are a must when wearing those!
SYMMETRY
As you know, the Lillyfield design will be mirrored when time comes to knit the second mitten. Question: should the flowers face each other, or face away from each other? Sharon recommended, and I agree, to have the flowers face each other at the tip of the fingers. So the chart you keep seeing, and the mitten I'm knitting first, is the one for the right hand.
ETA: this is also the way Jennifer Coleman resolved left-right symmetry in the original Lillyfield design.
GENERAL STUPIDITY
As I mentioned in the beginning of this post, enjoying knitting this pattern didn't happen instantly. Here's a rundown of some of my adventures, roughly in the order in which they occurred.
1. The tubular cast-on is an old friend, but I highly favor one particular way of doing it. I start with a provisional chain equivalent to ½ the total number of stitches, then k1, yo all the way around, and go from there (Periwinkle and Art Deco berets are both started this way).
The Anemoi mittens also begin with a tubular cast-on, but specifically the one where you twist the yarns around the needle (i.e., not my way). Plus you don't join in the round right away, and there's knitting through the back loop (oh, the horror!).
My brain could not compute the discrepancy between my usual way, and the pattern's way. So it took me between 4 and 40 attempts to finally get it right.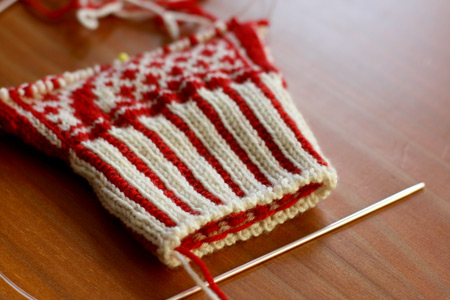 2. "Repeat Round 2 17 times more" is not the same as, "Repeat Rounds 1 & 2 17 times more." Misread and frogged at least 3 times.
3. For stranded knitting, I hold one color in my left hand and the other in my right. My left hand can do anything – knit, purl, yarn over, decrease, increase… My right hand can only do two things – knit, and drop stitches. In this pattern, we are asked to purl with both colors, which necessitates purling with my right hand. Gah! It's more difficult than knitting laceweight with a banana!
4. Something didn't exactly add up in the Anemoi chart. Correct me if I'm wrong, but only 66 out of the mitten's 68 stitches are charted. Then there are some side stitches which are purled, which are perhaps not on the chart. Right? And that makes the stripes going along the sides of the mittens not symmetrical? I wish there was a better picture, or better yet, all the stitches were included in the chart!
I did a lot of reading, re-reading, counting, and charting to try to figure this out. End result – I'm still not sure what Eunny wanted us to do. Screw it, I'm just knitting three CC (red) stitches along each side of the mitten!
5. It was when I was knitting those yellow-blue arch-fitting knee highs that I discovered knitting colorwork on dpns was not comfortable for me. It's one of the few occasions where I prefer using two circs for knitting in the round! And yet, there was a lot of frustrated head-banging-against-wall this week before I remembered this and switched to some simple Susan Bates circs
. Much better!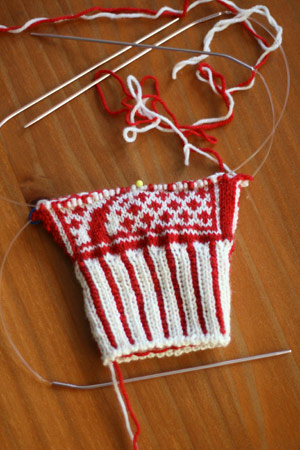 Is that it? I'm sure there's more, but I've selectively erased it from my memory ;). Here's hoping that it's smooth sailing from here!
2
likes