Of all the different considerations I listed in my last post, it's the length of the mitten that proving most troublesome.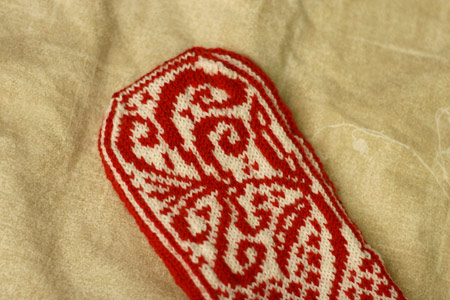 As I mentioned, I deleted 6 rounds from the bottom of the chart before I even began knitting – I suspected the mitten would come out way too long if I hadn't. This was an excellent beginning, but I don't think 6 rounds were quite enough.
Overall my mitten seems to be a good length, extending about ½" beyond my longest finger. But I had to smoosh all the decreases into the very tip of the mitten! Both Eunny's and Jennifer's patterns instruct us to decrease gradually: first every other round, and then every round, similar to the way sock toes are constructed.
Unfortunately, by the time the beautiful lily allowed room for decreases, I had only about half an inch of knitting to go! So I decreased very quickly, over a very small stretch of space, which led to a rounded rather than a tapered appearance. Plus all the decreases bunched on top of one another formed rather obvious ridges. Do you see what I mean?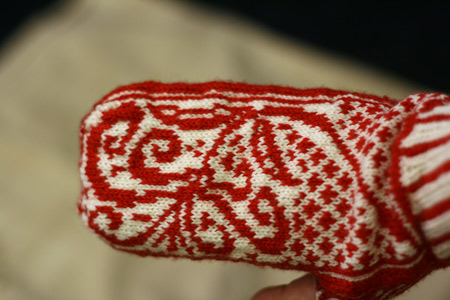 (It's hard to take a photo of one's hand with a 50mm lens
, especially one's right hand).
As I see it, I now have four options, listed from effortless to most time-consuming:
1. Leave the mitten as is. The extra space to the left and right of the fingertips will prevent finger claustrophobia. And blocking will probably smooth out the decreases.
2. Frog about 2″, re-chart the lily so it's more squat and start the decreases sooner, working them in more gradually.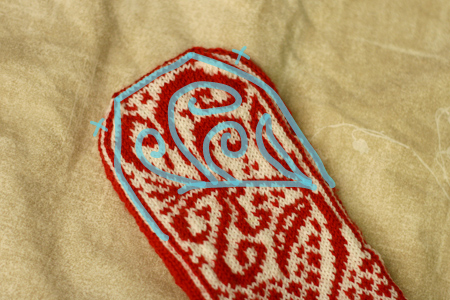 3. Leave the lily chart alone, frog to somewhere in the middle of the stem and re-knit it to be more steep, thus moving the lily head closer to the wrist and leaving more room at the tip of the mitten to work in gradual decreases.
4. Leave the lily chart alone, frog to the cuff, bluntly cut off another 6 rounds, start anew.
Thoughts?
0
likes