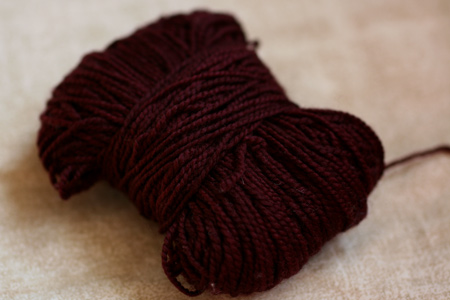 Koigu Premium Merino. One of the most ubiquitous sock yarns, don't you think? Many will say it's their absolute favorite. Looking at photos of the different colorways, I'm actually tempted to agree! I love that there's such a wide range of possibilities, one differing from the next by just a few blue specs, or a slightly deeper red. The color preference of every knitter can be satisfied.
My body, however, does not love it. Nothing negative and nothing controversial. Just an observation. Knitting with Koigu hurts me – my hands, my wrists, my shoulders, my back. Why is that? I'm not entirely sure, but I think I have an idea. I think by sight the yarn appears to be fingering/sock weight.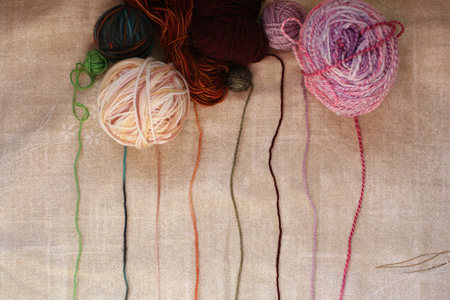 Some sock yarns, for comparison. Taking this photo was a total trip down memory lane! From left to right:
Lorna's Laces Shepherd Sock I used for the cable twist socks.
Opal Handpainted from the original Jaywalkers.
Claudia Handpainted used in some simple grandma socks.
Fleece Artist merino sock yarn from the uptown boot socks (loved that pattern!).
Madeline Tosh superwash merino used in the recently-completed Punctuated Rib Socks.
Koigu Premium Merino, the yarn in question.
Fleece Artist Sea Wool from the Undulating Rib Socks.
Sock Hop handspun yarn from this simple, yet gorgeous pair of socks.
Don't you agree that the Koigu resembles the 5 yarns to its left, all fingering weight? And so I don't think twice about matching it to a 64-72 stitch sock! But in my hands and on my needles it behaves more like a sportweight, more like the Sea Wool and Sock Hop yarns on the right side of the photo – just a hair chunkier than fingering weight. For me, Koigu doesn't compress very much, and so when I force it to be at 8 stitches per inch, I end up having to knit deliberately tightly! For a pleasant Koigu experience, I would wise up, use size 2 needles, and knit 54-stitch socks.
Maybe the tight knitting is also the reason I ran out of yarn the last time I tried to use it and the sock was coming out so dense and small!
I don't know if others have had this experience. I also don't exclude the possibility that this observation is color-specific: maybe treating the yarn with this particular deep red changed the texture? Some say that the base yarn used in Koigu is fingering-weight Louet. If that's the case, then the dyeing definitely changes the texture, because Louet feels unquestionably different to me – a true fingering weight, one which I can comfortably knit to 8-9 stitches per inch.
What do you think? Compare your Koigu to other sock yarns – does it feel thicker and firmer, or the same? Does it knit up like other fingering weight yarns in your hands, or differently?
0
likes