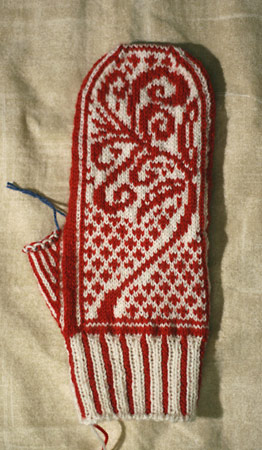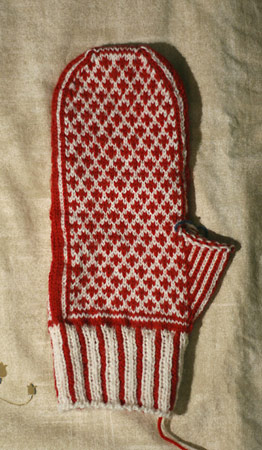 I apologize for the less-than-spectacular photos, but I hope you're able to see that the new version of the mitten is a significant improvement over the old! Plus, I don't think I've shown you the palm side of the knitting yet, so there you have it.
I followed plan #2 – I first re-drew the upper portion of the chart to contain a more "squat" lily. I was able to squeeze in some of the smaller background elements at the top of the mitten, which I think frame the main motif nicely as many of you suggested.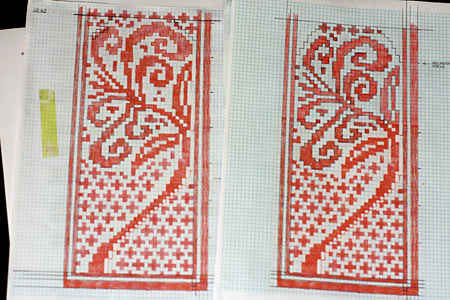 The newer version is on the right.
While redrawing the chart, I tried to stay true to the original Lillyfield curves as much as possible, which surprisingly wasn't too difficult. Also, I did not alter the length of the mitten or the number of stitches remaining after completing the decreases, since those particulars seemed to fit well in my first try.
However, the spacing of the decreases is now more gradual. I think the resulting shape is more tapered and flattering, and the fabric is smoother. And yet the change wasn't drastic enough to cause finger claustrophobia!
Onward? Yes, I think so! As I mentioned before, to knit the other mitten, I will scan in the latest graph and mirror it. Super simple! And this time around, I will knit with full confidence ;).
– – – – – – – –
In full disclosure, I have to tell you that I fell off the wagon a little bit and started another project. Just a little bit. It's not one of the dangerous projects, either. Gulp!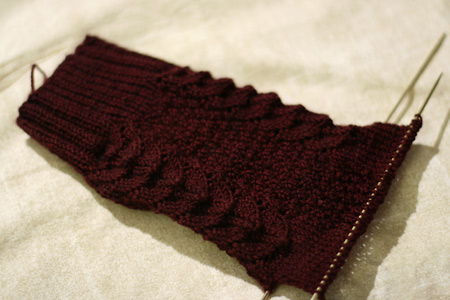 In brief, this is Child's French Sock from Nancy Bush's Knitting Vintage Socks
knit in Koigu KPM #1160. The details will come a bit later, but for starters, you've seen this yarn before ;). And I've seen this sock pattern before, boy, have I ever! Over and over and over again, which is why I'm finally compelled to knit it. Plus, my thoughts on Koigu and why we'll never be BFFs.
0
likes