My friends, say goodbye to the Anemoi-Lillyfield Frankenmitten.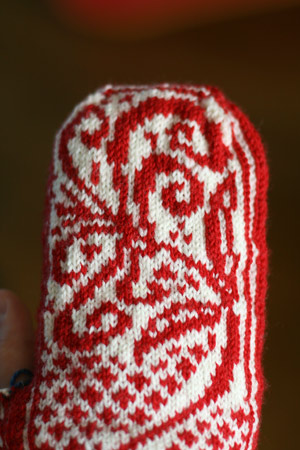 Well, at least the top 2″ of it.
Hello? Huuullllooo?!?
You know me. You know me and my knitting. If I'm even putting the option of frogging out there, you KNOW it's going to happen. Skeins of cashmere will rain from the sky before I pass up frogging in favor of something simpler.
When in doubt, rip it out.
My mantra. My knitting. My way.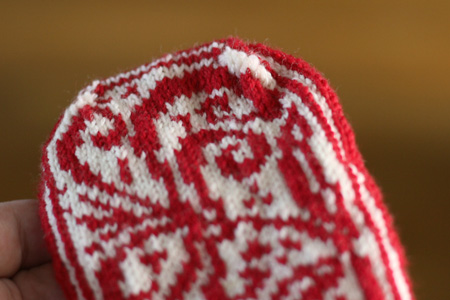 How much I'm going to rip out is not yet determined. I'm going to tweak the chart first and see what develops. At the very least I'm going for option #2, the top 2″. I might need to dig a little deeper and tweak the stem to get things exactly right, but I don't think I'll need to go there.
Knitting the other mitten differently and then coming back to this one is tempting, but I think I'd rather fix this one first. Having it around, all puckered and bleh, taunting me from my knitting basket, is more than I can handle ;).
Surgically removing another 6 rounds above the cuff and then grafting the cuff and remaining mitten together is a very nice thought, but I know from experience it's going to get ugly. (Though wouldn't it be fantastically ironic if both the Kristen hat and these mittens intended to match it would require that kind of surgery?!? Haha!)
The option to leave the mitten as is… I put it out there, sure. I think I even considered it for a second or two. But as soon as I even entertained the idea of frogging, we all knew what was going to happen.
Say goodbye.
– – – – – – – – – – –
Please visit my blog on Saturday for a super special Valentine's Day announcement! It's a baby! Sort of. But NOT mine ;).
0
likes