Before I forget, I want to thank everyone who chimed in with their thoughts about Koigu. You were incredibly informative, both factually and anecdotally, and I feel like I have exponentially increased my knowledge of… this yarn. Sounds weird and perhaps a bit obsessive, I'll admit :). I was going to quote some of you in this post, but the breadth of information you provided was overwhelming, and I know I'd quickly find myself writing a novel ;). Instead, I invite the curious to explore the comments: some amazing stuff.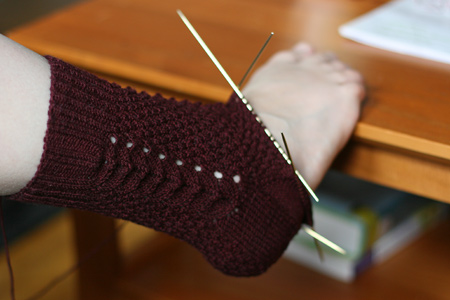 I know the color of the yarn is accurate because I actually am that pale.
I'm not entirely sure what comment should accompany this photo. Positive? Negative?
Koigu is undeniably beautiful, and has blossomed into gorgeous projects in the hands of dozens of knitters. If you glance through the comments to my last post, there are tons of examples. Furthermore, some knitters say that their Koigu socks wear like iron, feel wonderful, and are a joy all around.
But other commenters agreed with my realization that the yarn itself is twisted very tightly, doesn't have a lot of give, and can hurt our bodies if knit at a dense tension. Like me, they noticed that Koigu needs to be knit on slightly larger needles. And for these reasons, at least for some of us, it is not a good choice for knitting socks.
The two trains of thought are not mutually exclusive, of course. There are many knitters who are happy to use Koigu for lace and baby items, but not for socks. And I think I am going to fall into this category.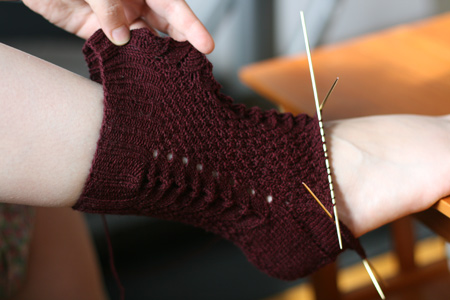 Perhaps this is my longwinded way of saying good-bye to the Child's French Sock. It's gorgeous, but the Koigu isn't working for me. My body aches, the fabric is dense and stiff, and yet the sock is coming out very big. I will try using the Koigu again, certainly, but with larger needles and for a different type of project. Maybe the lovely Purl Beret?
In the meantime, I needed some instant sock happy, so I cast on a new pair this Sunday. I'll show the project to you next time, and I think you'll see some familiar elements ;).
0
likes