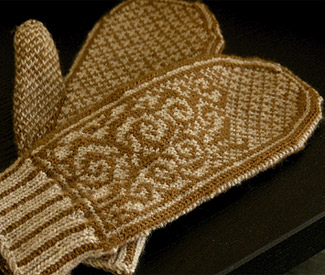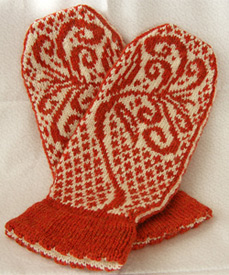 Telling you about my Lillyfield-Anemoi mitten planning was one of my most successful posts ever. Your advice was tremendously helpful, both in terms of anecdotal evidence as mitten wearers and suggestions about pattern alternations as knitters. I currently lack experience in both departments. The consensus went something like this, as encapsulated by Kristy:
I have to say that I don't like afterthought thumbs at all. They either make my hand feel awkward, or I pull my thumb over to the most comfortable position and distort the knitting. But you could always adapt a pattern to include a gusseted thumb!
My goal was as clear as day: knit the Anemoi mitten with the Lillyfield motif. Alternatively, knit the Lillyfield mitten with a gusseted thumb. The result should be similar, if not identical. As for the cuff, I know I will prefer the snugness of corrugated ribbing, so that was not a difficult decision to make.
This afternoon (after finally finishing and blocking the Punctuated Rib socks!) I got out the two patterns and carefully looked at them side by side.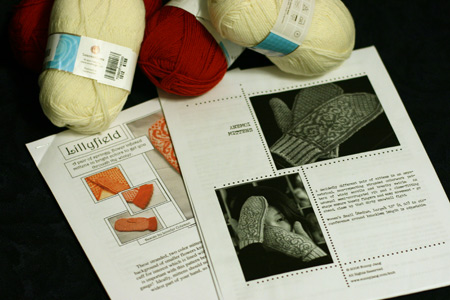 They are so similar, and yet so different! Similarity: both are a single set of charts, with different mitten sizes derived by varying the knitting tension. Differences: everything else. The finished sizes, recommended needle sizes, knitting tensions, stitch counts, round counts… they are all different!
Now, on the one hand you know me to be a very methodical and thorough person, one who does oodles of calculations and really thinks through a project before casting on. On the other hand, it's very difficult for me to do that for this project. And here's why:
I refuse to swatch. Knitting a swatch for a circularly-knit, colorwork mitten is basically the same amount of work as knitting the mitten. Sweaters and other projects are obviously a different story. This thinking combined with a not insignificant amount of impatience is propelling me just cast on. No calculating, no pondering, no swatching. Just knitting. But exactly what do I knit? I do need to figure out how many stitches to cast on, and what motif(s) to incorporate!
An interesting tidbit that you perhaps already know: I've never been a believer of forcing the yarn into a certain gauge. You hear it all the time, "I swatched with US 5, US 6, and US 7, but I keep getting the same gauge!" "I went down a needle size to achieve the specified gauge, but now I have to consciously knit tighter than I typically would, and my hands are hurting!" Kathy don't play that. Kathy would much rather knit the yarn at a knitting tension which is reasonable for its thickness and the purpose of the project, measure the gauge, and adjust the pattern instead.
This is an important consideration here because in both patterns different mitten sizes are achieved by varying the gauge. I don't think I can do that, force the fabric to be something it doesn't want to be (or something my hands don't want to make) just so I can follow the pattern "to the t"!
Let's set aside the stitch count for a minute (while I come to terms with the fact that I will need to knit a swatch).
The Anemoi mitten has a lot of visual appeal, don't you think? I especially like the way the curlicues are framed all the way around – I think it defines the decorative center quite nicely, makes a neat and tidy edge, and lends itself to cleverly hiding the decreases at the tip of the mitten. The framing is an element that I want to keep. So, how about squeezing the Lillyfield motif into the Anemoi frame?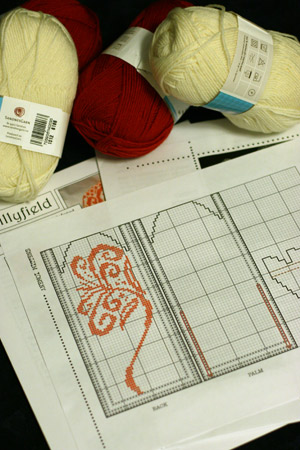 That's exactly what I tried to do here. Very conveniently the Anemoi pattern provides a blank mitten schematic on page 8; I opened it up in Photoshop. Then I opened up the Lillyfield pattern in Photoshop, copied the main flower, scaled it accordingly, and shoved it into the Anemoi schematic.
But there are two issues. First, the Anemoi mitten is 68 stitches at its widest, and I have a feeling that's too few stitches to span my hand if working with the thin SandnesGarn Lanett. Second, the Lillyfield mitten is quite a bit wider – 80 stitches – and squeezing that motif into fewer stitches got rid of many details which, if we're being honest, make the whole thing dainty and beautiful. Nope, not good.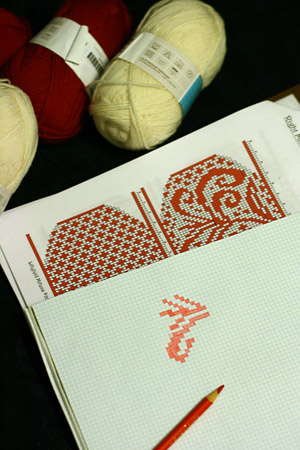 Next idea: re-chart the Lillyfield pattern making it just a little bit slimmer than the original 80 stitches, place it inside a modified Anemoi frame that's just a bit wider than 68 stitches, and, hell, knit a swatch while at it. Because I don't think this project will allow any shortcuts. Dammit! We haven't even gotten to the thumb mods yet! Stay tuned to see how it all turns out…
0
likes