Well, lookie here!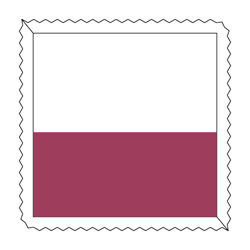 You might be asking yourself, "How can I make such speedy progress? Do I need to quit my job? Learn to knit faster? What's the secret?" The recipe, my friends, is simple: take one long weekend, and then add several inches of snow. Make sure not to mix in any laundry! There has to be a supply of bad TV on the DVR, so being away for the entire prior week would be very helpful. Internal temperature is critical for the success of this recipe: too hot, and you'll get sleepy; too cold, and you won't be able to feel your fingers. Several hours later, voilà!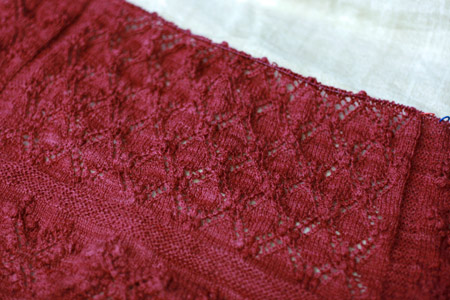 I'm just about halfway done with the main square. Whoa. This is knitting up way faster than I imagined! I guess it's not really a complicated pattern, conceptually speaking. There are some maneuvers and physical trickery involved, and the shawl is pretty big, but otherwise, there isn't much to it. All the wrong side rows are "return rows" – either knit or purl back without consulting a chart – and that break often makes all the difference. It's like you're relaxing 50% of the time!
I have two thoughts to share about the yarn, Lorna's Laces Helen's Lace in cranberry (get it from Linda, she's the best!). First, it seems a little stiffer and rougher than the other two colorways of Helen's Lace that I've used in the past (periwinkle and blackberry). I know that the dyeing process can truly affect the properties of yarn. For example, have you ever knit a colorwork project using several colors of the same brand of yarn, and noticed that some strands are thicker or thinner than others? In my experience, the darker colors are usually thinner than the lighter ones. Something like this is happening here, I think – maybe the red dye stiffened up the yarn a bit. As I knit, I keep thinking to myself, "I can't wait to block this. The transformation will be magnificent!"
My second thought is that I seem to be using waaaaay too little yarn. Remember, I got two whole skeins, 2500 yards of this laceweight yarn! It's hard to predict anything until the last stitch is knitted, but I'm eyeing that enormous cake of yarn suspiciously as it doesn't even try to shrink, row after row. I'm watching you, buddy. You've been put on notice.
The Punctuated Rib socks progress is much less impressive. For some reason, it's turning into the project that never ends. I seem to be knitting a round or two every day, and yet the socks aren't done yet. Oh well. They're almost done… done to the point where I'm starting to daydream about the other Dangerous projects. With the incessant cold weather, my thoughts are turning to mittens!
0
likes