A bit at a time, I've been nupping my way through the Crown Prince Square Shawl. If you can believe it, I even knit a few rows while traveling! I can't say it was the best experience in the world – the jittery plane, sharing elbow space in those tiny seats, sub par lighting, juggling charts and those little drink cups on the tiny tray, knitting at 6 p.m. local time (11 p.m. back home) – but I couldn't stay away! Oh, Nancy, why is your pattern so addictive?
Look how much I got done!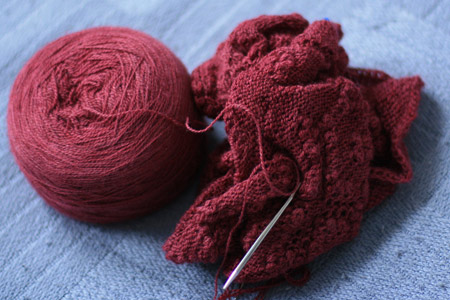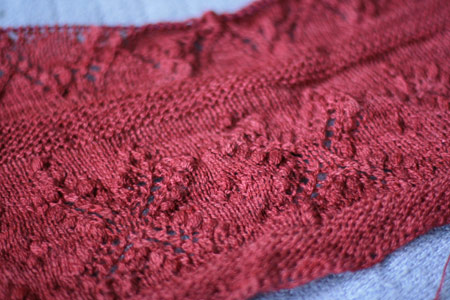 Hmmm… I'm thinking it's time for another progress schematic, because photos of wadded up lace or even-smoothed-out-but-unblocked lace are the worst indicators of progress!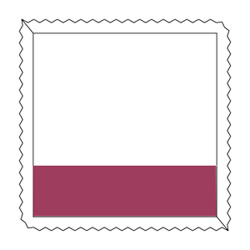 Wow, the hour or so I just spent looking up row counts and drawing that diagram in Illustrator was super productive! I now see that I'm way farther ahead than I imagined! More than a quarter done with the main square (84 rows out of 305 total).
The only thing that can potentially top the straightforward simplicity of a schematic is the beauty of dry-blocked lace. Let's take a look.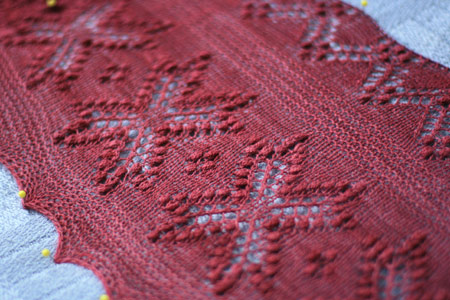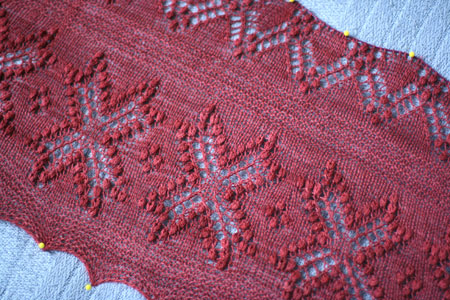 Oh, nupps! So beautiful, so elegant, so textured, but such a pain to p7tog! Now, ways to simplify the p7tog is a topic as old as the earth itself. Or at least as old as the Swallowtail Shawl: in my mind, that's the project which exploded the issue in recent history. No reason to rehash, right?
Instead, let me mention three areas of frustration which have nothing to do with maneuvering seven loops of yarn in one purl swoop. Maybe you've encountered these issues, too? Or did the p7tog override all other nupp-related difficulties we might encounter?
First of all, if one forgets to make a nupp, one has to frog back to the stitch where the nupp is needed. Similarly, if one adds an extra nupp, one has to frog. Other stitches – yarn overs, decreases, what have you – you can just drop down, fix, and everything will block out at the end. But a nupp uses so much yarn, you can't just add it or delete it later. Annoying! Now, if a nupp or nupps are simply shifted to the left or right, it's not a huge deal because the correct length of yarn has been allocated.
Second, I've found it far too easy to purl too many stitches together, making a p8tog instead of a p7tog. One time I made this mistake and caught it a good 13-15 rows later. Dropping down to the nupp and carving out an extra column on stitches it accidentally ate up was not fun, not fun at all. For this reason, I've gotten into the habit of counting stitches between nupp elements.
And last, am I the only one who regularly makes 9-stitch nupps? K1, yo, k1, yo… so mesmerizing, it's not difficult to add one more! Sometimes I catch myself, and other times I'll just have extra-juicy nupps, I guess!
Writing about this shawl reminds me how much I've missed knitting it. It's been a few weeks, and it's time to work those needles, I say, especially on a snowy day like today ;).
1
like