The Dangerous series will resume shortly – I still have another 3 or 4 interesting things that I want to show you. Your input on the Anemoi and Lillyfield mitten patterns was immensely helpful, by the way. I've only knit two pairs of mittens before, both with gusseted thumbs, and both gifts. So, I just didn't know that afterthought thumbs are awkward to wear! Your experience educates me, and is the whole reason for the Dangerous series ;).
Today let's look at something über adorable.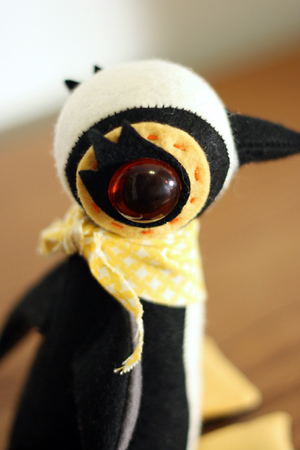 You cannot resist my lashes!
bat-bat-bat
I bought this Girlie Penguin from the wonderfully creative Maritza at Bazaar Bizarre a few weeks ago. She is so cute with her yellowness!
I've eyed the Soto Softies penguins for a while now. I love penguins. I wanted to give chocolate penguins as favors at my wedding (we went with Ghirardelli instead). I even contemplated Soto penguins as toppers on the wedding cake (would have been vetoed in a second, so I didn't even try – we had a cream bow). That would have been wild!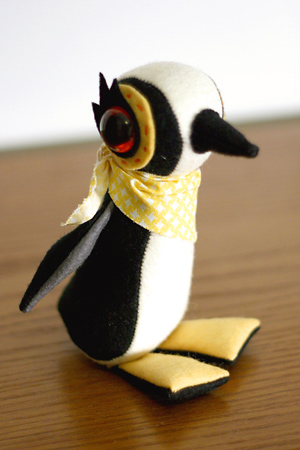 Instead, I waited patiently for the perfect opportunity, and now Girlie is all mine. But there's some room for sharing – just this week Maritza put together the Le Penguin sewing pattern, now available in her shop. As a pattern writer myself (one who has her battles with Illustrator on a regular basis) I will be the first to say that the Le Penguin pattern is a work of art in and of itself – five full pages of directions and pattern pieces to trace, dozens of illustrations… It's excellent.
Even if I'll never attempt sewing my own Le Penguin (I have Girlie, and I know nothing I sew will compare), I am in awe of the amount of work that went into this pattern. And I look forward to others from Soto Softies!
Wedding photos ©2008 Gulnara Studio
0
likes