Read the background and check out the first two projects here, and the next two here.
Yesterday I said that winter accessories are the only handknit items which I reliably wear. It's absolutely true. I can be even more blunt – if it's not a scarf or a hat, it's probably sitting somewhere in a closet, waiting for its glory day… which will never come.
And sweaters? Well, we know how I feel about those! Forget it!
Which brings me to:
5 and 6. Ropes and Picots Cardigan (IK Winter 2008) and Braided Pullover (IK Fall 2008)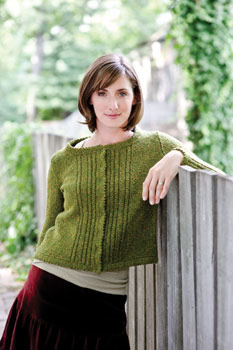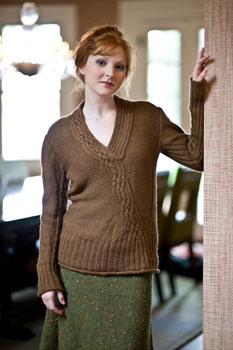 As always, I'm full of contradictions ;).
The Ropes and Picots Cardigan falls into the "tried and true" category for me. Take a look – does it remind you of anything? Cardigan with ribbing details along the shoulders, front opening, and on the sleeves… hmmm… been there, done that! It's like the long-lost cousin of my Brilliant Retro, don't you think?
I love my Brilliant Retro. I loved knitting it, and I love wearing it, even if it doesn't happen too often. The Retro fits as brilliantly (haha!) today as it did the day I finished it, despite my various ups and downs with weight. The yarn (Classic Silk) is a dream to wear – soft, stretchy, beautifully tweedy, gorgeous color.
When I saw the Ropes and Picots Cardigan, I could instantly picture it in my wardrobe, just as it is. The wider neckline, the slightly loose and boxy shape, the strategically-placed hidden snaps which would keep the cardigan closed in all the right places. I would probably make it a lot longer, so it would hit at mid-hip, but that's about it. Seeing the Knitting Daily galleries only reassured me – it looks great on everyone!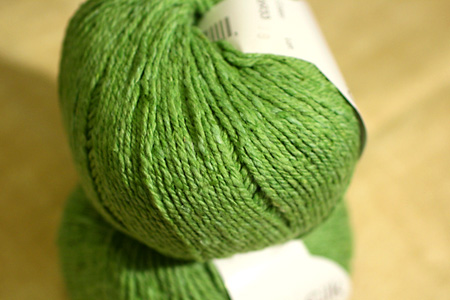 This also helped the instant connection – it's Classic Silk in kiwi. It's the yarn I used to knit the Brilliant Retro, in the same kind of tweedy green as IK's Ropes and Picots, which is the same sweater as the Brilliant Retro. And I have a sweater's worth in my stash. Do you see what I mean? It all just clicked.
The only missing component – the gauges of the recommended Rowan Scottish Tweed DK and my Classic Silk (worsted weight) are different. But when has that stopped me before?
There was nothing instant about the Braided Pullover, to be honest with you. I actually didn't see this sweater until very recently – the issue was released during our move, which is a huge blur to this day. Plus a brown sweater – always under the radar for me (I am not a fan, which is perhaps an understatement).
So I first noted it when surfing the Knitting Daily galleries – I thought it looked great on everyone! (This is in contrast to the model in the magazine who was basically swimming in it – not at all convincing.) The only thing is that the shoulders are too wide, in my opinion, so the seam scoots down the arm on just about all the Knitting Daily models. In that particular design, that's a cinch to fix. (Plus I think the left sleeve cap could be set-in a bit more neatly. Yeah, I look at all of them in this much detail ;))
What I like about it: (1) very pretty framing of the neck, with ribbing on one side and gentle cabling on the other, (2) asymmetry in the design which results in a flattering rather than a haphazard look, (3) it's longer in length, (4) it's cabled, but not so much that it adds bulk to the garment and to the wearer. Just a very pretty, creative design. Maybe not an instant superstar like Ropes and Picots, but I'm drawn to it.
The question is, since when do I entertain notions of sweater-knitting?!? Srsly. What gives?
0
likes