Click on any thumbnail to be taken to the corresponding Dangerous entry.
Thanks, everyone, for entertaining my ramblings over the past few weeks! I can honestly say that I got some terrific feedback about potential projects, and a whole lot of encouragement. Result: a new spurt of motivation! Yes, I won't just talk about these things, I will knit them! Well, at least some of them :). I'm also happy to have shared with you some of my recent finds – new books or patterns which went unnoticed for one reason or another. I hope you came across something exciting and interesting to add to your queue!
For now, two little tidbits from two newly-started projects: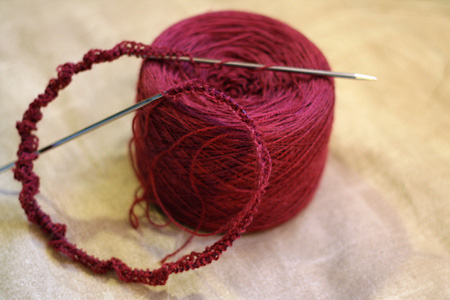 The Crown Prince Square Shawl from Knitted Lace of Estonia
is the most ambitious and time-consuming project in my line-up, and one with a definite deadline – June 1st, 2009. I know I won't regret the early start when I'm not hustling to finish a few weeks before the big day (speaking hypothetically, of course).
Most of the details are listed in Dangerous, Part I. I'll add that I decided to use slightly smaller needles: 3.0 mm (US 2.5) KnitPicks metal fixed length circs instead of the recommended US 4, so that the shawl itself will come out a bit smaller and a bit denser. I now realize that the dark pink cord might complicate stitch counting and compromise some future photographs … or maybe not. I thought it was the best choice in terms of pointy tip (nupps, people, nupps!) and needle size, so I'm going with it for now. Fortunately, I also have Addi Turbos and Inox Express in the 3.0 mm diameter in case I change my mind.
Please note: make sure to download the errata if you, too, are knitting this pattern!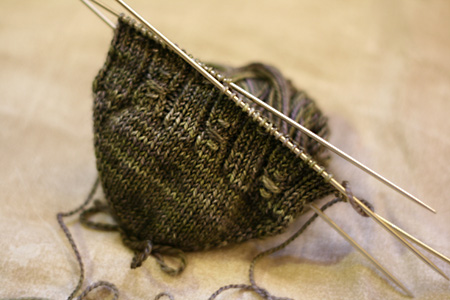 I also started the Punctuated Rib socks from Knitting Socks with Handpainted Yarn
. I'm using my favorite Susan Bates US0 dpns
. Conveniently, both the yarn and the pattern were mentioned in this series – killing two birds with one stone! My reasoning for starting this is that I'm going to be spending dozens of hours traveling over the next few weeks, and this type of project is the perfect travel companion. Plus, no socks for grandma since September?!? Shameful!
In the comments, someone asked whether this book has any toe-up patterns? It does, and this is one of them! The other toe-up patterns are Staccato and Split-Toe Sweethearts. Also, Spread Spectrum is neither toe-up, nor cuff-down, just thought I'd mention that ;).
These two should keep me plenty occupied for now, but I must admit I'm itching to cast on one more. I'm leaning towards one of the colorwork projects, but I can be swayed otherwise :).
0
likes