It was maybe two years ago that I seriously started paying attention to crochet. The gorgeous Babette Blanket in the Spring 2006 issue of Interweave Crochet was a factor, as were the Larger Thank Life Bag and Boteh Scarf, both in the Spring 2007 IC issue. Beautiful, inspiring… maybe even doable?!?
My previous experiences with crochet have been tentative at best. A chain here and there for the purposes of a provisional cast-on or attaching a lining? Not a problem. Even a pretty edging could be accomplished (on the third or fourth try). But a whole project? Never. Overwhelming, confusing, foreign, and scary!
But the cute projects kept popping up, and my crochet-phobia was slowly morphing into a genuine interest. Being a loyal reader of three blogs in particular propelled me deeper and deeper into the world of crochet.
First, Karen of Yarn is My Métier devotes a good chunk of her crafty energy to crochet, and many of her crocheted projects are instant attention-grabbers. Just take a look at her Boteh Scarf! Maybe it's the color, maybe it's the yarn, or maybe it's simply realizing that that shape could not be easily achieved with knitting.
Second, Maryse of Bag 'n' Trash – Home of Monster Yarn whips up some gorgeous crocheted things, from delicate scarves to massive blankets. Sometimes I think Maryse is the gate-keeper of Crochet – any bad-mouthing, any mention of toilet paper cozies, and she tilts her virtual head, looks disapprovingly, and immediately makes you regret any crochet-related insults which you've uttered. Just because you're unenlightened, doesn't mean crochet is bad.
And third, Superstarra Christie's whirlwind introduction to Doris Chan's Amazing Crochet Lace left me deeply inspired. In just a few months, Christie crocheted three amazing projects from the book: Blue Curacao shawl, Walking After Midnight skirt, and Chrysanthemum Tea shawl. Check, check, and check. Want, want, and want. Must learn this craft, now!
And so the stage was set. I decided to start with the Boteh Scarf, mainly because I loved Karen's so much. I bought the pattern eons ago, or whenever it was that Interweave first opened their online Pattern Store. It marinated for a bit, until I finally got the courage to ask Maryse a few questions – could I do it? Could I see her Boteh in person? What yarn would be a good choice? Did I need to buy a hook, or was one of the three I currently own good enough?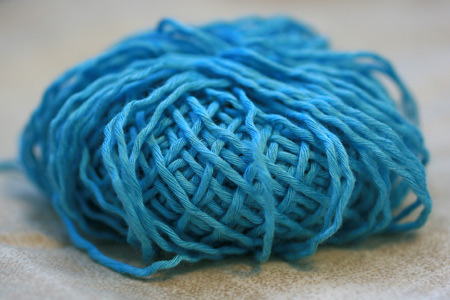 Eden Madil
, 100% bamboo, color 629, 109 yards/50 grams
A little while later, she personally okayed my purchase of Eden Madil, a bamboo yarn somewhere in the light worsted weight category. I am using a US G-6/4.00 mm hook, and crocheting at a tension of 18 sts and 12 rows = 4″ in hdc. Each skein of yarn (I bought 4) makes 5 triangles, and I'm estimating the scarf to be about 6.5″ wide and 80″ long once I'm done. Does this level of detail fool you into thinking I'm a pro? Good!
In choosing this yarn, I was hoping the supremely drapey bamboo fiber would negate any hint of stiffness that crocheted fabrics sometimes possess. The scarf if extremely drapey, just ruffles and ruffles cascading down, so I think it was a good choice in that respect. On the other hand, the cursed yarn is made out of 18 slippery plies. I don't know how I would find it for knitting, but for my first crocheted project, this makes it a very unwise choice!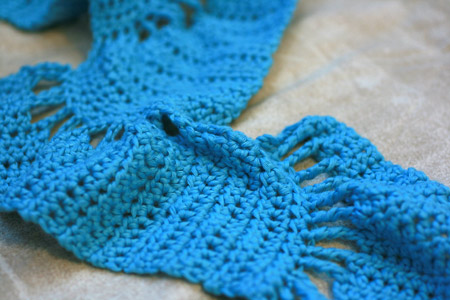 Figuring out the pattern was not easy, I'll be honest. More than once I frantically e-mailed Maryse, more than once I posted to the Learn Crochet group on Ravelry. It seems I have some issue with every aspect of crocheting a project: understanding the written directions, understanding the charts, being able to make the stitches correctly, identifying individual stitches/rows and the direction in which they were crocheted, being able to read my work…
That's the one which gets to me the most! I think what makes me a good knitter is my ability to troubleshoot instantly. I see something, I can figure out if it's a mistake, what went wrong, and I can think of ways to fix it, right away. With crochet? At one point I ended up with 14 stitches instead of 15, and I stared and stared and stared at my work, entirely unable to figure out where I went wrong. It really got to me. I'll learn that in time, right? Right?!?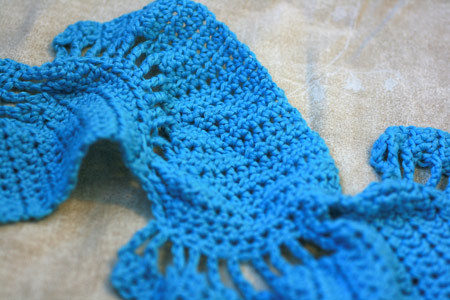 Fortunately, once you figure out the first and second triangles of the Boteh Scarf, it's all repetition after that. This is great, because the rest of my projects need charts and more mental energy than I care to expend at the moment. Plus, fewer implements and less elbow motion make crocheting great for my daily commute. Onward!
1
like