Slowly but surely I'm knitting through all those grays and browns dominating my knitting queue. With dad's Shooting Stockings out of the way, it's time to tackle the original next thing: my mom's Toe the Line shawl.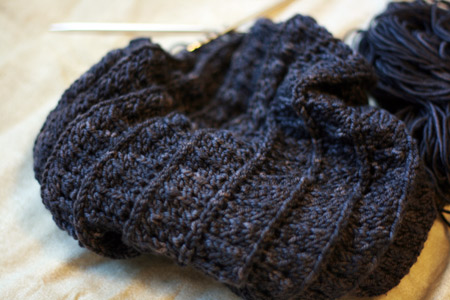 The labeling of Paivatar left me a little bit confused: we're told that using US 1-3 needles, the expected gauge will be in the range of 26-30 stitches/4 inches. The description makes me think, this yarn is fingering, maybe thin sportweight (using CYCA conventions). But when holding it, and knitting with it, it's clear to me that Paivatar is actually somewhere in the DK range – it's so thick and plump, and knitting it at the suggested tension would produce in a piece of wooly cardboard. Strange.
For my particular project, I've chosen US 6 Inox Express circs. That's probably a size larger than I would use in stockinette. My thinking is that with US 6 I'll get a little looseness in the fabric to facilitate blocking, but I won't be knitting a fishing net, either. I would have preferred a US 7, to be honest, but the only US 7 circ I could find was a Blunti Stumpo, which wouldn't have been a great match here.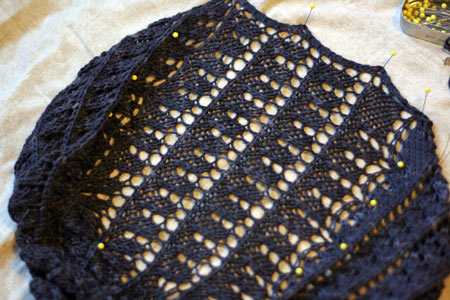 The first time I knit this shawl, it took me a while to memorize the pattern repeat. Not this time! Right away I started paying close attention to the movement of the yarn overs, and was knitting without a chart almost immediately! The pattern is really easy to memorize, actually, because the flow is so natural. I just love it!
Like many top-down shawls knit from the nape of the neck out, Toe the Line allows you to customize the size – the shawl can be as small or as large as you want. At my knitting tension, each pattern repeat is about 1.8″ wide at the long edge of the shawl after "dry blocking." If I'm to make this shawl the same size as the Leaf Lace Shawl (that's the idea, since this one replaces the Leaf Lace my mom lost about a year ago), then 17 pattern repeats are in order, plus the edging. Having already knit 12, I'm well on my way! I hope it will be done just in time for cool weather.
0
likes