And so, August has come and gone without a single peep from yours truly. Regretfully, everything was completely topsy-turvy around here for weeks on end. While the rest of the world enjoyed their glorious August weekends (and this year, as though to spite me, they were truly glorious in our area), I committed to memory the floor plan of every nearby Target.
Each day there are fewer and fewer things left to do, and I think we only have 3 or 4 boxes left to unpack. But having hardly picked up my knitting since mid-July, I understandably haven't had much motivation to share my nonexistent progress with you.
I can't predict whether my opportunities to chat with you will be more numerous in the immediate future. I hope so. That is, when the internet's working, and we finish assembling the furniture in the living room, and there aren't looming trips to Target or IKEA for this thing or that one, and I finally wash off the dirty footprints in the bathtub (don't ask… or rather, ask my husband), and… right… I actually locate some knitting and knit a few stitches, so that I have something to show you. Then I'll return to blogging.
For today, two exquisite reasons bring me to you. First, I'm home from work with a cold that threatens to blow up my head. Good thing I make an excellent cocktail. Second, our internet is totally busted up and I'm waiting for the Comcast technician to come by and put us back online. You might ask how I'm able to blog, these two things considered, but my stuffy head can't come up with an answer right now, sorry.
Anyway, while it's clear that all my free time has been committed to packing, unpacking, and setting up the new domicile, I have not forgotten about you, not for a second! How could I?!? Everywhere I looked, and each thing I touched, no matter how mundane or personal, was a tribute to my involvement in the knitting community. Want to take a look???
For example, let's start with cosmetics. If not for Sundara, I would have never even heard of Paula's Choice skincare. I love many of their products, but the Barely There Sheer Matte Tint is a "don't accept any substitutes" favorite.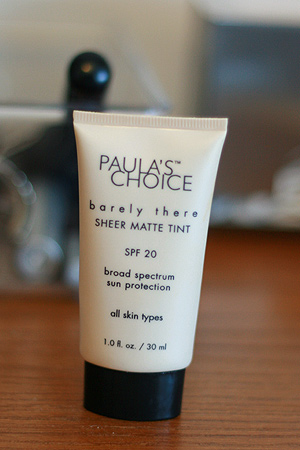 About a year ago, a speedy but fruitful trip to Sephora totally refreshed my makeup drawer, and for the better! The culprits? Diana and Maritza, of course! They tested the colors on my face, then shoved the goodies into my basket. Now I'm on the second or third iteration of most of these products.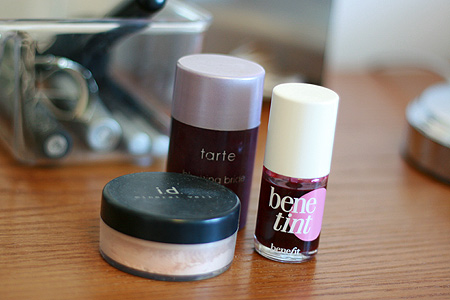 Just some of the new favorites I discovered that day, thanks to my knitting friends: Mineral Veil, Tarte cheek stain, and Benetint.
The queen of knails herself, Fluffy Knitter Deb, introduced me to glass nail files when I was readying my hands for my wedding. The results were excellent ("tears of joy" photo as an example), and I've never looked back.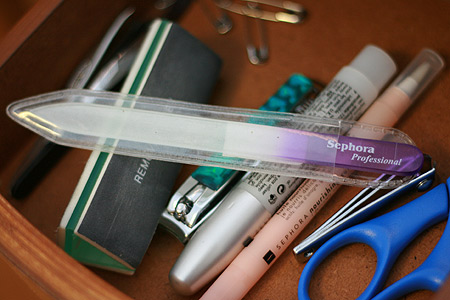 Speaking of Deb and her P-Man… I think our Kitty has benefited the most from my association with all the (cat-lovin') knitters. Whenever I read about something new or cool for the furry ones on a knitting blog, I just go ahead and buy it, no questions asked. Hasn't failed yet, not even approximately! Kitty loves all the toys that you write about ;).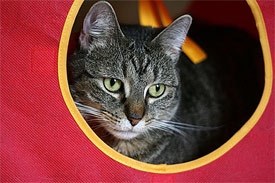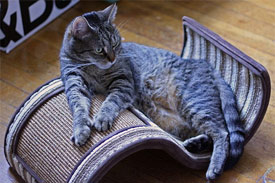 From Crazy Aunt Purl we learned about the Crinkle Cat Cave
, and we thank Karen (via Chris) for Kitty's new favorite: the SmartyKat Wave Curl ScratchScroll Two-Surface Scratcher. That's a complicated title for simple kitty happiness. You know, it's only a matter of time before Kitty has her own climbing tree, and the thing that looks like a fish head.
My knitting bookshelf is understandably influenced by the things I read on the web, and the interactions I have with knitters in real life. Even the way it's organized, together with the sewing and cutting tables (yes, I have one of each now!), pays homage to all the pretty crafting rooms I've been reading about for years. Like the one Nova just finished organizing! But I think I'm going to leave a formal introduction to my crafting space for another day, when the bookshelf isn't blocked by unpacked boxes and when the cutting table isn't housing random modems and routers in anticipation of the Comcast tech.
As for the regular bookshelf, in addition to housing super-dry science and architecture textbooks, it, too, appears to be "under the knitters' influence."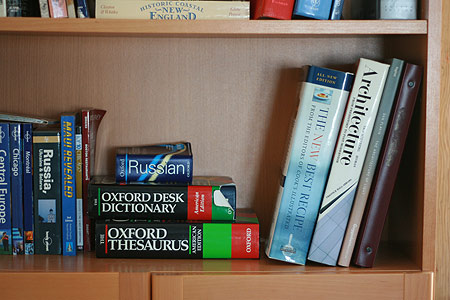 I'm not into cookery, but I do have one (exactly one) cookbook – The New Best Recipe
, which is the cookbook June mentions most often. Yup, that's how I chose it… I want the one June uses! Can't say I've ever cooked anything from it, but I like to read it, and the things June cooks look delicious ;).
Here, there, and everywhere, little reminders of knitters. How does it feel, seeing your findings, discoveries, and observations, parading right here, infiltrating my life?
0
likes