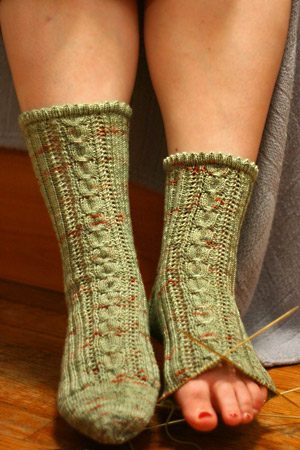 One of these things… is entirely not like the other!
And sadly, it's not an optical illusion! Here's another visual.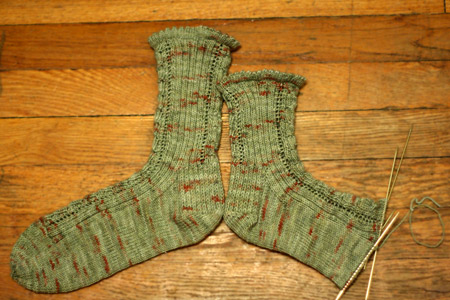 The sock on the right, in addition lacking a toe, is about 2″ shorter than the sock on the left!
As I cast-on for the second Belle Époque sock, I noticed that the leftover skein was looking mighty skimpy. Huh, I thought, it's going to be a tight squeeze! I remembered being warned about the scant yardage of Colinette Jitterbug – 320 yards for a pair of socks… For comparison, Lorna's Laces spoils me rotten with 430 yards/pair! But it wasn't until I had fully started the second sock that I finally threw the thing on the scale.
Whaddayouknow… the first, knit with abandon, loving the yarn, better make these generous for grandma, grown-up sized sock had consumed about 60% of the available yardage. And now it… I mean, I, will suffer :(.
The plan is simple: I crunched some numbers and figured out that in order to distribute the yarn equally between the two socks, the first sock had to donate about 3 pattern repeats to the second.
Naturally, this donation will have to come from the cuff of the sock – grandma's feet are not shrinking in length any time soon! Anklets were not my original intent, but I'm going with it – grandma loves all of her socks equally, there are no favorites (so she tells me).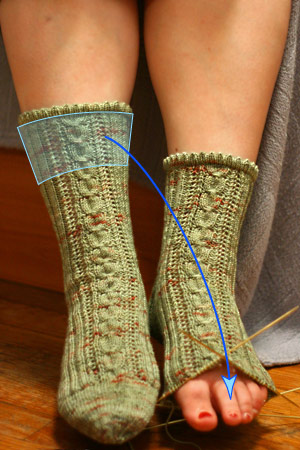 To cannibalize the yarn, I'm going to thread a length of waste yarn through the round in question, snip above, unravel, re-knit the picot edge (or maybe just graft the original? I haven't decided), and use whatever is left for the second sock's toe. I call on the Power of the Maths to make sure the cannibalized amount will be enough!
As for the technique, good thing this is not my first time! Mia shrug, Filati tunic, and the Kristen hat have all paved the way for this next surgery. Wish me luck!
0
likes