Happy knitaversary to me,
Happy knitaversary to me,
Happy knitaversary, dear Grumpy,
Happy knitaversary to me!
And many more!
Time sure flies! Yes, it was four years ago that I confused knitting with crochet, and accidentally learned the former while aiming for the latter.
On my first and second knitaversaries we looked back and re-visited the first swatches of a novice knitter. On my third knitaversary we looked ahead – just when you think you've tried it all, there's always more to learn.
On this, my fourth, knitaversary I do not intend to give into nostalgia or wistfulness. Instead I'm feeling grateful that our craft is so freaking flexible. What is more amendable, pliable, and modifiable than knitting? Where else can you add stitches, subtract rows, swap colors, insert panels, and change drape either individually or all at once? Knit a lace shawl tonight, and a cotton bath rug tomorrow morning? Whatever your whim, there's a pattern. And if there isn't, you can take the next best thing and modify, or even start from scratch. We knit what we want, when we want to, and in a way that makes us happy.
On this, my fourth knitaversary, I'm delighted to have the ability to get rid of the number four in my latest project ;).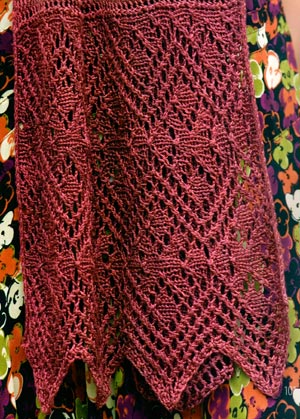 Again I succumb to stupid numbers. Just like the Fir Cone scarf pattern, the 21-25* scarf pattern starts out with four repeats of the border motif.
And I hate four!
Why???
Isn't it immediately obvious?!? Four is a bad number! Some numbers are good, and others, like four, are bad. Duh!
I actually have an entire mental inventory of good and bad numbers, and the distinction doesn't seem to follow any obvious pattern. Sometimes I try to come up with an explanation for the goodness or badness of a particular number, and… it's arbitrary. I'm just arbitrary. I'm so glad I don't make my living as a psychic!
One thing's for sure: four is bad, whereas three and five are fine. So, the very first 21-25 scarf pattern modification was to change the number of border repeats.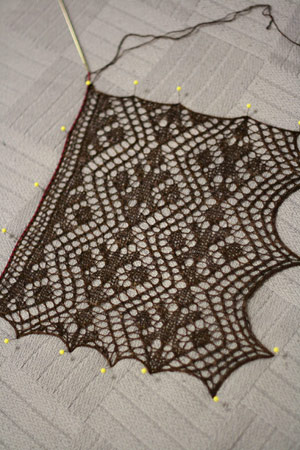 When knitting the Fir Cone scarf, I went with 5 repeats instead of 4. In this case, I decided to downsize to 3. My reasons: first and foremost, I only have 500 yards of yarn. If I want this scarf to be 55-65″ long (that's a good length for me), it will have to be quite narrow. But not too narrow! After completing 3 border repeats the scarf dry-blocked to 11″ wide. That's exactly the width specified in the pattern, and the same width as the Fir Cone scarf.
Which brings me to the second reason: I decided to knit this gorgeous STF Atropos on US 3 circs (these ones). My yarn overs have a little more breathing room (compared to knitting with smaller needles: US 0-1.5 would be my typical choice for such fine yarn), so 3 repeats seems exactly right. Four is out of the question, and 5 would make a scarf too wide and not long enough, I think.
On this, my fourth knitaversary, three repeats it is. I love that knitting allows me to make this modification, just like that 😉 [snaps fingers].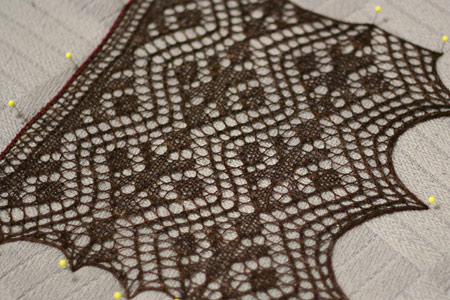 *Small, but very important side note: what I'm affectionately calling the 21-25 scarf pattern can be found on page 100 of Victorian Lace Today
(review/preview). Its official name is "Scarf with edging 21 and insertion 25 from The Knitted Lace Pattern Book, Thompson Bros., Kilmarnock, Scotland, 1850." I think you can see why an abbreviation was in order.
0
likes