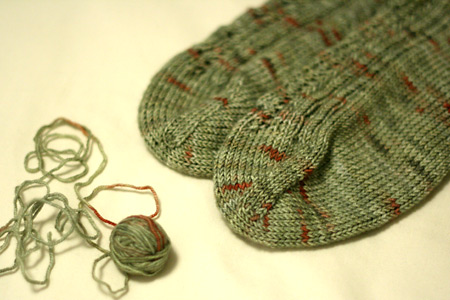 I don't think I've ever been as happy as I am right now to see two completed sock toes! Two sock toes which belong to two identical socks, I should add, with a little ball of leftover yarn to boot! I really couldn't stomach another frog-a-thon, so let's hear a big "whew!" for the finished Belle Époques!
As you know, the Maths and I are BFF, and once again I was not disappointed with their powers. Miraculously (or is it, predictably?) all the calculations worked out and I got as much fabric out of the JitterBug skein as I possibly could. The little ball of leftover yarn weighs in at 3.3 grams, and each repeat of the pattern takes 2.8 grams, so I couldn't have squeezed in another repeat (for both socks) even if I wanted to.
Not that I would want to! Currently the socks have 13 repeats each, which is an excellent number in my book. If I added one more, that would make 14, which, naturally, sucks. Not as much as 4 because it's tempered with the goodness of 1, but close. It's weird, I know.
I'll show you just how good 13 looks after the socks are blocked! The stitches are a bit wrinkled from all the frogging, so a long soak is in order. Until then, since it's an Eye Candy Friday post, here's the same photo as above, but with a bit of processing to highlight the gorgeous bursts of red in this colorway: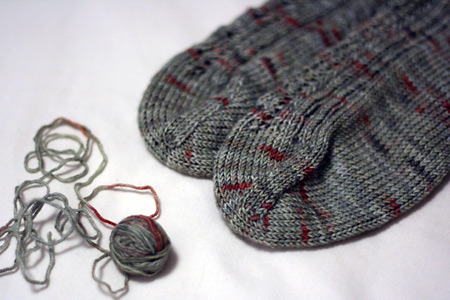 0
likes