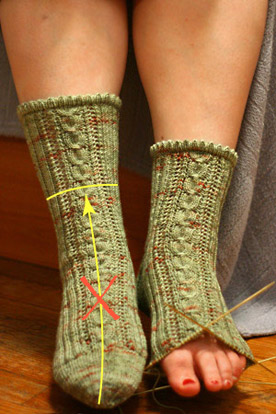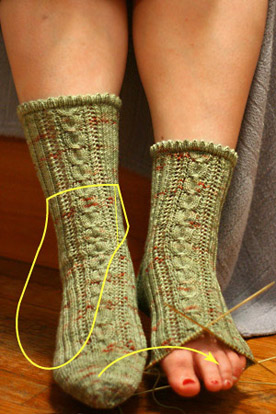 And after all was weighed, calculated, and planned, I decided to frog the first sock and re-knit it to match the shorter one.
The decision was instantaneous. Well, I first tried to thread a lifeline through the round in question for 15 minutes, but after that, it only took an instant to frog the majority of that first sock!
If you've ever tried to knit (or frog!) something from the "opposite direction" – not from where you were last knitting, but from the cast-on edge – then you know that stockinette loops look the same whether you're working up or down. Ribbing is trickier, because the working loops are between knits and purls – it just looks odd, but functions okay (as long as you aren't trying to knit more ribbing, because it will never match up).
In the case of Belle Époque, however, I was dealing with eyelets and decreases, patterned on every round, which proved to be beyond my level of patience and persistence. Fifteen minutes later, I declared, "not worth it!" and frogged with absolute assurance! As far as I was concerned, this was the one and only solution all along ;).
Every good plan needs a Plan B, right? Can't say the Maths were wasted, since I still would have needed to crunch the numbers to know how much to frog ;).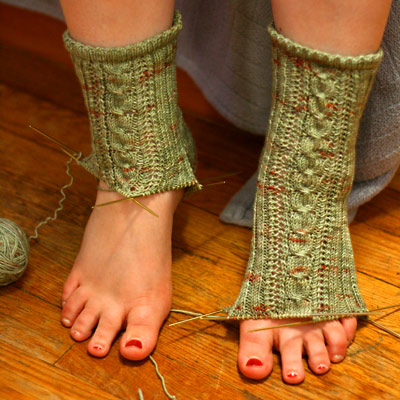 Yes, I have several sets of those dpns
, for situations just like this one, and for multiple WIPS, should the need arise. No, I don't recommend walking around with that getup on your feet. Not because you might trip and fall, or stab yourself… but because the needle will slip right out and you'll lose your stitches!
0
likes