I've come to (begrudgingly) accept the gaping waistbands of most store-bought pants. I also fully understand that (annoyingly) most store-bought clothes must be altered before I can wear them. (Also, my mirror could use a little Windex, I know.)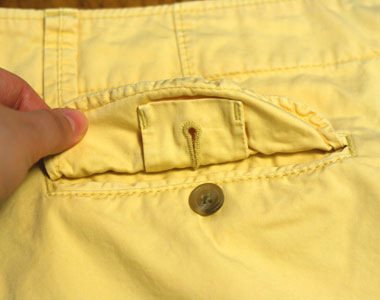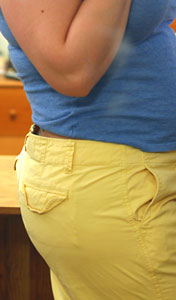 But tell me, am I the only one who sees a gazillion poor choices all rolled up into one crappy pant over here? Poor choices above and beyond gaping waistbands and simple alterations.
Flap pockets for the bum-endowed.
Flap pockets which don't lie flat against the body.
Flap pockets which have hidden swaths of fabric and a button, to ensure that they stick out regardless of ironing, flattening, patting (by you or others), etc.
The button and its fabric encasement? Yeah, you can't operate that while wearing the pants, unless you have spider-like fingers (or have had a drink or two).
This monstrosity attached to a thin, summer pant, thus defeating the flowing, carefree silhouette.
All covering up back pockets sized to fit a credit card and a pocket mirror, nothing more.
So, yeah. Out went the button, and the extra bit of fabric. Then I stitched down the flap pockets and put some elastic into the waistband.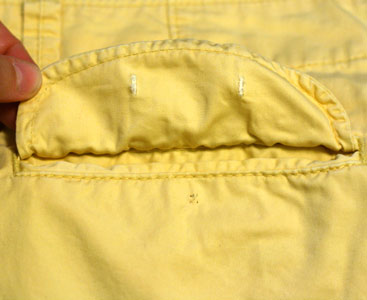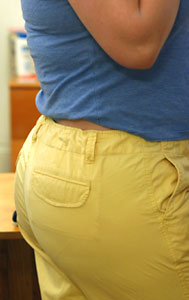 Better, no?
And since I shop just like Norma does, I fixed up the navy pair, too.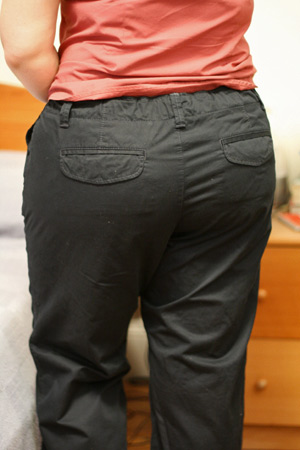 Followed by eliminating the drawstring in the brown counterpart to the taupe pants I showed you a few weeks ago.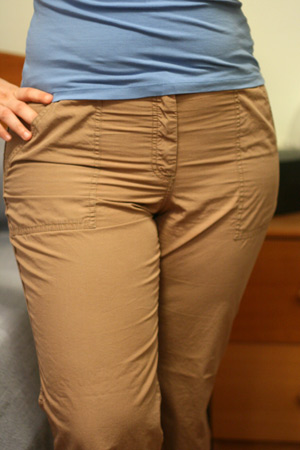 By the way, those (identical) brown and taupe summer pants? They also had flap pockets at some point, with velco, no less. I stitched those down as soon as I got them.
And then I hemmed four pairs of pants.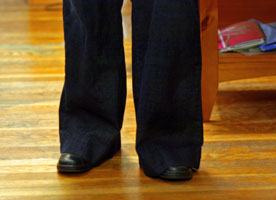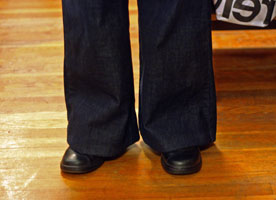 Wide-leg Mimosa jean trouser from Lucky Brand Jeans. Love. Which of course means, discontinued (bastards!).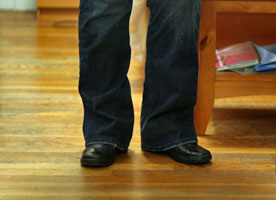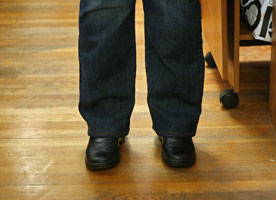 Classic Rider from Lucky. A little more slim through the hip and thigh compared to Easy Rider, and a little more flattering on the belly, since it's zippered (as opposed to the Easy Rider, which is button fly). My new favorite. I may have been about ¼" too ambitious in hemming this pair, but they're perfect for flip-flops and flats.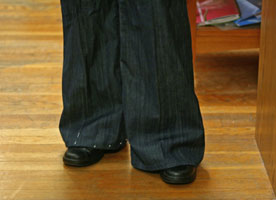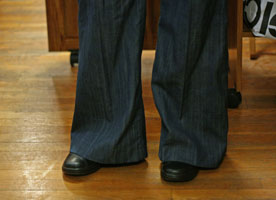 The 'before' photo is more of a work-in-progress, so please use the pant leg without pins for reference. Another ridiculous item from the GAP, though it didn't need any elastic in the waistband or flap-pocket removal, thank goodness. These super lightweight, wide-leg denim pants came with an itsy-bitsy 3/8″ rolled hem. Of course it looked ridiculous and didn't give the leg opening any movement or substance. Since I needed to shorten them anyway, I gave them a nice 1.5″ blind hem. Much better.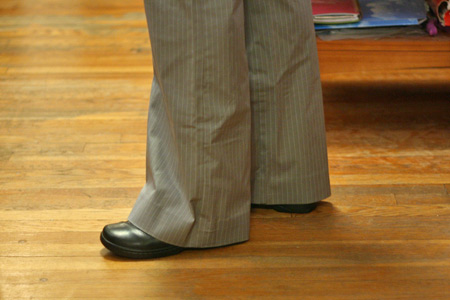 I didn't manage to take a 'before' for these cotton pants. The only pair left in my size was "long" so I chopped off, like, 3 inches. I trust you to use your imagination. Amazingly, other than the length, this pair fits great!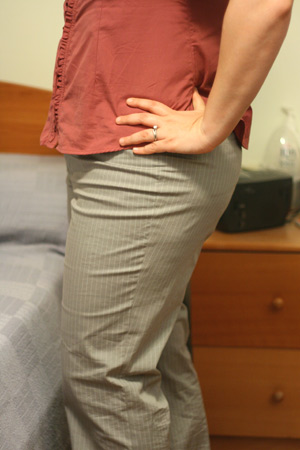 0
likes