I have received many inquiries regarding this buffalo sweater, and requests to share the pattern. Unfortunately, I am unable to do so.
This sweater was a commissioned piece, and the pattern was supplied to me by the customer. After I had finished my knitting, I returned the sweater and the pattern to the owner. I did not retain a copy for myself (nor would it be right to do so). Once in a while I see a copy pop up on eBay
; this is where I suggest you look.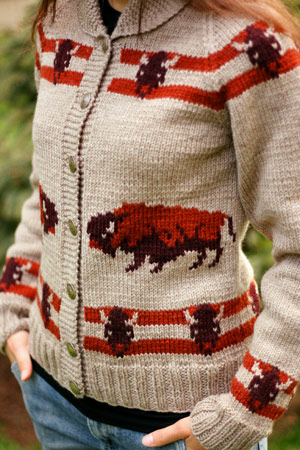 There are four on the left front of the sweater.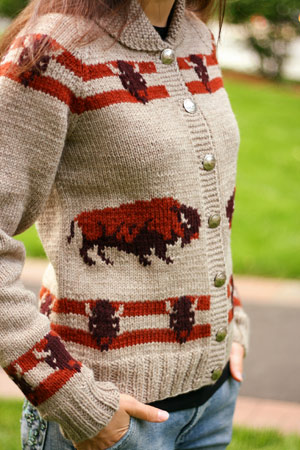 And four on the right.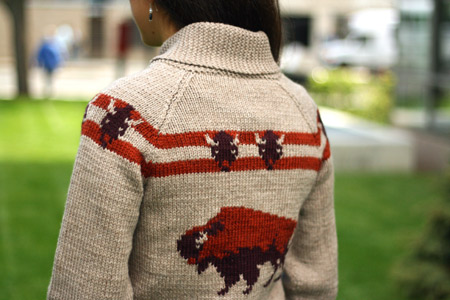 Eight more stomp across the back, including the biggest one right in the center.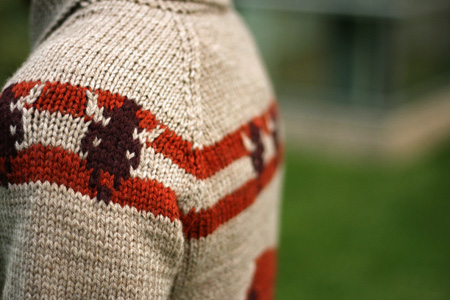 Four on each sleeve, of the smaller "accent buffalo" type.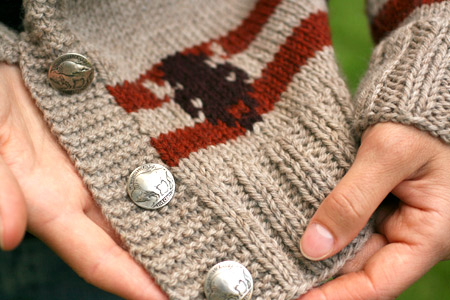 And each of the seven buttons is a molded buffalo nickel coin.
Thirty-one buffalo. Buffalo-licious!
Pattern: Mary Maxim buffalo cardigan, ©1957. A little kitsch, a little tobacco pipe, a little Mr. Rogers… but somehow gorgeous at the same time!
Yarn: Cascade 220 in 8012 (oatmeal), 2403 (burgundy), and 2435 (rust). I don't know the precise quantities used, unfortunately.
Needles: Bryspun single-pointed needles, US 5. I wouldn't ordinarily use straights for a sweater, but I was trying to match Cari's mom's knitting tension, and these gave me the right numbers!
Gauge: after blocking, about 19.5 stitches and 28 rows per 4″.
Row gauge was critical for the success of this project, since I needed the fronts of the sweater (knit by me) to match exactly to the back (knit by Cari's mom). Otherwise the bands of buffalo around the bottom of the sweater and the yoke wouldn't line up! (Our stitch gauge ended up being a bit different, actually, but I fudged a few stitches and no one's the wiser ;)).
Finished dimensions: approximately 34″ around the chest, 14″ from ampit to hem, and 23″ from shoulder to hem.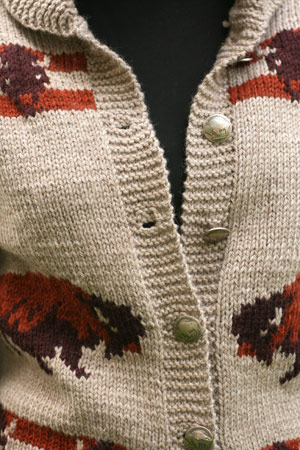 Cari's mom was a genius for choosing those nickel buttons, don't you think? They tie the whole sweater together, and they are just darling! I used the one-row buttonhole from the Knitter's Handbook
(p. 196) worked over 3 stitches – it blends into the garter stitch button band very well.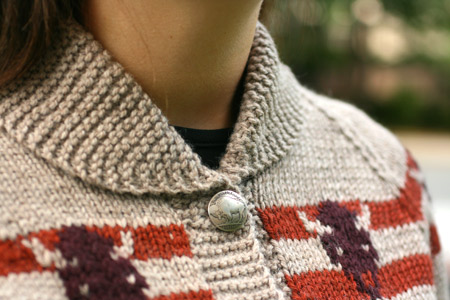 I was surprised that the shawl collar was knit separately and then seamed to the sweater body, but I followed the pattern without question and I think it came out exceptionally well.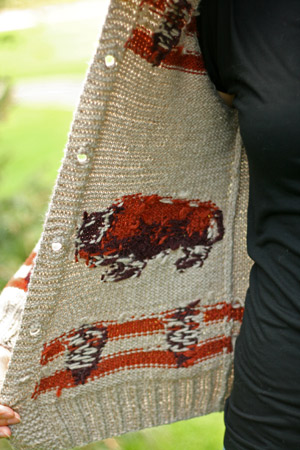 I know you will ask, so here's a shot of the intarsia mess on the inside of the sweater. It's not bad, I think. After blocking (in this instance, steaming), the ends matted down quite well.
Last, I would like to thank three people. First, Cari's mom for choosing this pattern, selecting wonderful colors and buttons, and getting me started. Second, Cari for passing the project to me when her mom couldn't finish it – this is truly a once in a lifetime opportunity. I hope you enjoy wearing this collaboration – a little me, a little your mom, not too shabby overall (I'm hoping!). And last, my friend Susan – not only a gorgeous and willing sweater model, but an incorrigible camera ham.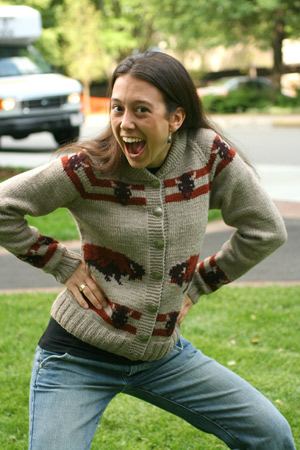 2
likes