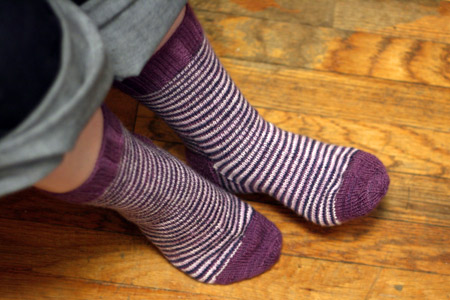 Contemplate sock yarn leftovers. Wouldn't some of the colors go oh-so-well together?
Investigate the helical nature of knitting.
Try knitting some jog-less stripes, remembering to go with the flow!
Insert a short-row heel.
Or a flap one!
Accept Lorna's Laces' offer to create a colorway which blends all the helical sock colors into one (this step is optional, hehe).
Consider ways to maintain proper tension across dpns; make a little video.
Finish the sock, wash the sock, and blog about it. BLOG about it. Grandma wants her birthday socks (even if 2 weeks late), so get out your camera and do it!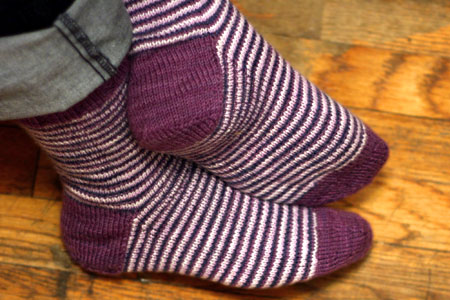 Pattern: in simplified terms, this is just stockinette, knit in the round (over 66 sts, starting with 20 rnds of K4, P2 ribbing, round toe from Folk Socks
, pg. 69). Yup, the simple nature of the knit stitch worked in the round underlies all the apparent complexity! But of course I have to cite Knitter's Handbook
, where I first read about "helical stripes."
Yarn: Lorna's Laces Shepherd Sock, 80% superwash wool, 20% nylon. A pair of large women's socks (a bit wider than average, and 10″ long) used up the following amounts:
blackberry (4ns, main color) – 40 grams
navy (24ns) – 13.5 grams
lilac (12 ns) – 12.5 grams
natural (0ns) – 12 grams
I'm not sure why I needed a bit more of some accent colors than others, but in any case we're definitely in the "leftover" category – I often have as much as 20 grams left over after finishing a large pair of socks (from a 100 gram skein). Just the main color needs more than scraps.
Needles: Susan Bates
US 0 dpns, set of 5. (Well, I actually used four US 0 needles, and one US 1, because apparently having 3 sets of these needles is not enough for all my WIPs, but who's counting?)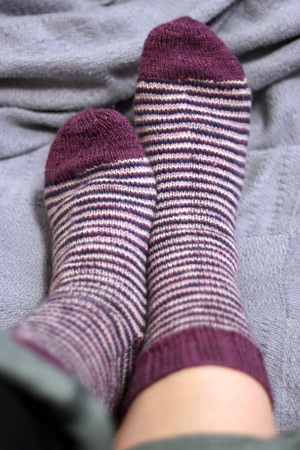 Ladders: Present, but not important in the least ;).
7
likes