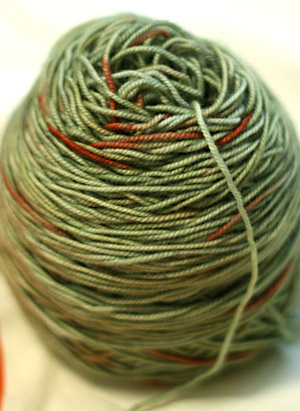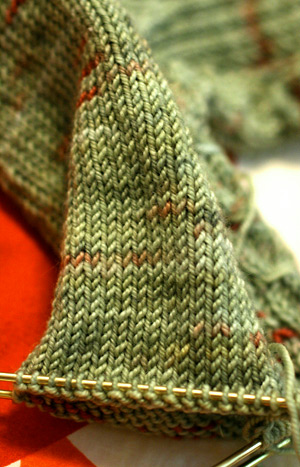 The stitch definition is absolutely remarkable. A tightly spun, cord like yarn will do that: knit itself into stacked columns of yarn beads. Does that mean the socks will be particularly long-wearing? They better be, considering knitting with this yarn occasionally pains my left hand and shoulder, just like when I knit with cotton or linen.
It looks and feels just like BMFA Socks That Rock lightweight. But I don't think any colorway in the Socks That Rock family approaches the beauty of this moss. The variegation is subtle enough to support a very complicated stitch pattern (as we'll see below). At the same time, the little bursts of red color keep the hands moving – what color will the next stitch be?




And it's all somehow reminiscent of food! Rhubarb? Strawberry patch? Lettuce greens? Watermelon? What am I missing? Some other yummy?

The pattern is Belle Époque from the new book, 2-at-a-time socks
by Melissa Morgan-Oakes. Longtime readers will cry bullshit at this purchase – if knitting one sock using Magic Loop ranks as my #1 most fiddly technique ever (more fiddly than intarsia!), knitting two socks simultaneously using this technique is… not even on the radar of acceptability!

But the patterns inside are good! Intriguing enough to make me open my wallet, despite having enough sock patterns in my library to last a lifetime! I figure, if the cover of the book proclaims "Revealed inside… the secret of knitting two at once on one circular needle. Works for any sock pattern!" then I can go ahead and knit their patterns, one at a time, using dilapidated dpns. Right?!? Right?!? 😉
And that's exactly what I'm doing!
0
likes