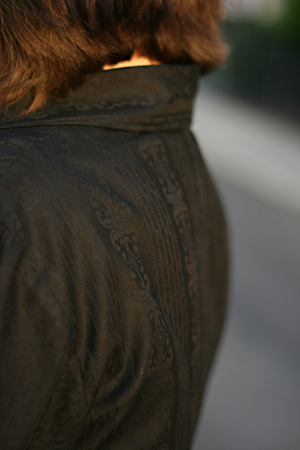 This is, by far, my favorite shot. Something about the setting sun tinting my hair and the blouse's fabric a soft orange. And finally seeing that black-on-black jacquard woven fabric that's typically impossible to capture. Wouldn't you agree?
Here are a few more: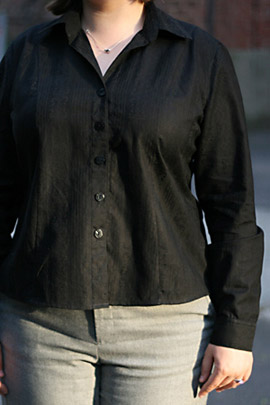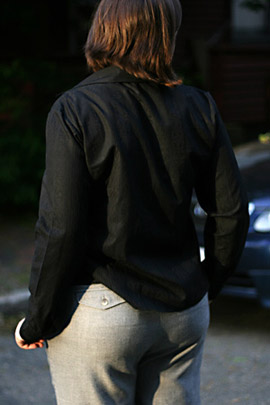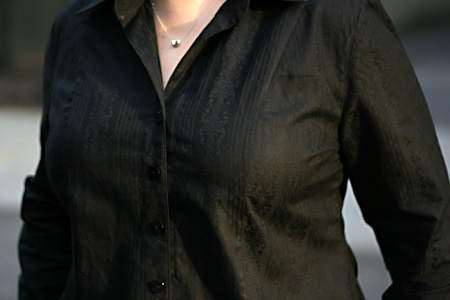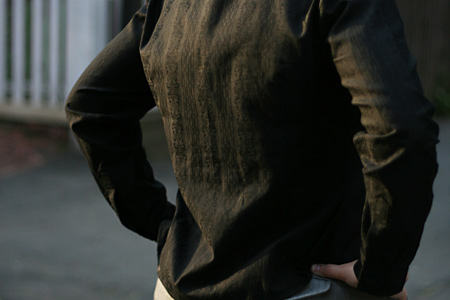 This Neue Mode blouse pattern (J23071) has awesome bones, as they say. Any blouse with full-fashioned princess seams allows a ton of refinement, even if it doesn't work right "out of the box," so that was the first step to success.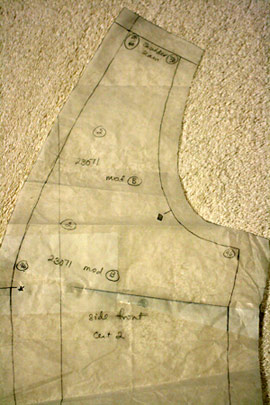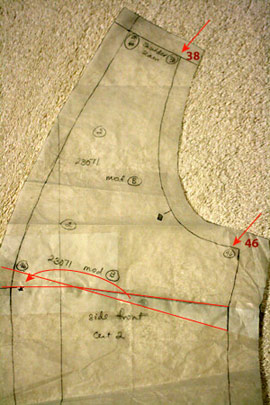 In my case, the majority of refinement came in the form of merging size 38 shoulders and a size 46 bust. Can you see that? (Labeled for clarity, I'm hoping?) You can also see where I took a bust dart, and rotated the fullness it would produce into the princess seam. Fewer darts to sew – always a plus!
One thing I didn't have to modify from the original – the sleeves. Which is a worthwhile thing to mention… Though I think all of you must know this already. Nonetheless, it was a fascinating discovery for me!

As knitters, we are able to get away with all kinds of shortcuts, because knit fabrics are very forgiving. So, when we make a top, we probably realize that the back of our shoulder socket really should get more fabric than the front. (Swing your arm back and forth, and then lift it up and down – where do you think an extra bit of fabric to allow the movement should go – front of shoulder cap, or back?) But as knitters, we just say, "eh, screw it!" and knit the sleeve cap symmetrical across the midline (the infamous "decrease left side of sleeve cap same as right").

Anyway, once we move to sewing and woven cottons, the story is very different. Little swaths of fabric matter, and the better-drafted patterns will have the sleeve caps all kinds of non-symmetrical. Take a look at the blouse you're currently sewing and the sweater you're currently knitting – how do the sleeve cap patterns compare?
0
likes