And if juggling four balls of yarn isn't your cup of tea, the folks at Lorna's Laces have your number!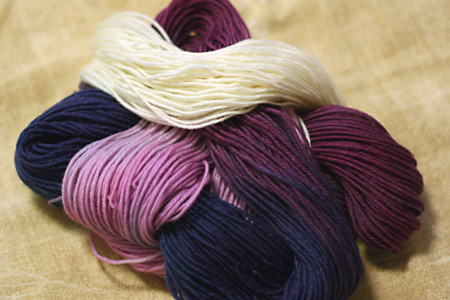 What a gorgeous combination of blackberry, navy, natural, and lilac: all the colors I'm using in the stripy spiral socks!
And wouldn't you know it, this new colorway is named after me! Grumperina colorway, hehe!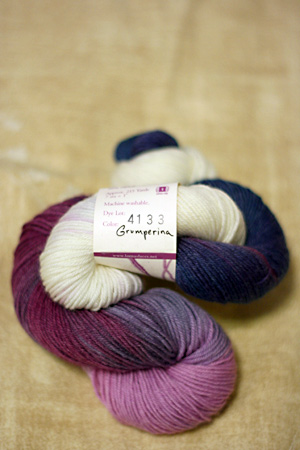 When Beth at Lorna's Laces first mentioned the idea to me, I was like, really?!? Never in my wildest dreams! At the same time, of all the different yarns out there, I couldn't be happier to see my nickname on a hank of Lorna's Laces Shepherd Sock. But you knew that.
I really like the moodiness of this colorway. I think it's the perfect medley to have "grumpy" in its name (even though my favorite color is red, and my general grumpiness is always questioned ;)).
And yet another wonderful thing – Grumperina Shepherd Sock is exclusive to my favorite LL supplier, Linda!
Linda, emtnestr on eBay, has recently began to transition to her own store on the web, Birds-n-Yarn, and invites you to check out her new home. With all the Lorna's and the Cherry Tree Hill and the hand-crafted dpns, it's certainly worth a look ;). And of course if you want some of the special colorway, you have to visit.
OR…
You can leave a comment here, and I'll randomly select one lucky reader to receive two skeins of LL Shepherd Sock in the Grumperina colorway!!! Comments have been closed, and the winner will be announced shortly! Thank you for reading!
0
likes