Dear friends, please allow me to share a series of wonderful tidbits with you:
1. Lorna's Laces Shepherd Sock in Grumperina is back in stock!
Also, to answer some of your questions, this colorway will be a permanent fixture in the Lorna's Laces line-up (pinch me!). But remember, you'll need to visit Birds-n-Yarn to stash-ify (stash + satisfy = stash-ify). In addition to Shepherd Sock, you can currently purchase this colorway in Lion and Lamb, Shepherd Worsted, and Shepherd Sport. I'm certain that Linda will be happy to take special orders if you want yet another weight/fiber variety (birdsnyarn at aol dot com).
2. Lisa, a sweet reader, e-mailed me a photo of her completed Grumperina LL SS sock! She graciously allowed me to share the photo with you, because (hello!) look how beautifully the yarn striped!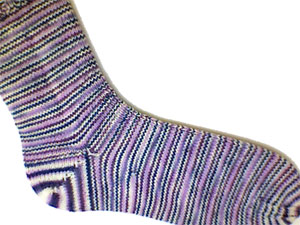 For the record, Lisa knit the sock over 64 stitches using US 0 needles, at a knitting tension of 9 stitches per inch.
I totally didn't anticipate this beauty, and now I'm super eager to knit up my own skeins! I mailed out the prize skeins yesterday, so I can't wait to see how the yarn behaves on the winners' needles, too ;).

3. Picovoli lovers, rejoice! Jody came to my rescue, formatted the pattern lickety-split, and it now resides at Knotions, her new 'zine! I'm working on having a PDF copy on Ravelry, too, but Knotions is immediately accessible so please help yourselves there for the time being!


4. Odessa lovers, rejoice! The pattern is now available through Ravelry as a PDF! If you don't have access to the Rav, drop me a line and I will send you a copy via e-mail!

5. I know I still have some loose MagKnits ends to tie up – the Corded pattern, plus all the dead links which permeate my webpages. Again, I'm working as fast as I can – feel free to poke around… eventually you might come across a link that actually works ;).