The thing about "knitting in the round" is that it's a bit of a misnomer. In actuality, when we knit continuously around an imaginary (or real!) cylinder, we are knitting "in a spiral."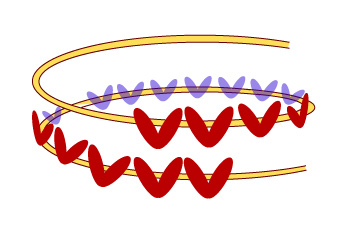 Forgive my stinky-ass diagram. It's certainly better than Plan A: using a drawing of a coil generating a magnetic field, and superimposing stitches on top of it. But it's not quite Plan C: begging TECHknitter to make the diagrams for me (how does she do it?!?).
Anyway, the blue stitches in the back would obviously appear as purl bumps from this angle, but I hope you get the idea.
For those of us familiar with crocheting, the idea that working "in the round" is actually an exercise in "spiraling" is even more evident: sometimes we have to add extra stitches and make other such provisions as we move from one level of the coil to the next.
Not that I would know anything about that particular brand of black magic. Crocheting. Pssshhh!!! Nope, not here.
Our brains are forced to do a little bit of gymnastics as soon as we decide to add a stripe to our "knit in the round" project. Take any circular segment of the spiral, and you will realize that it doesn't close on itself. The beginning and end are not in the same plane – one is higher than the other!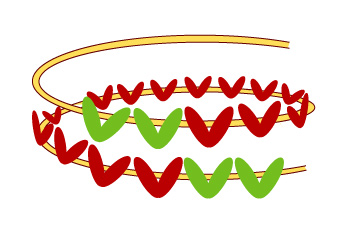 There are many ingenious techniques for hiding "the jog" when colors are changed while working in the round. But that's not what I'm getting at here. In your three-dimensional mind, imagine two coils traveling around the same imaginary cylinder. If we're talking about knit stitches of fixed height, the pitch of each coil doubles as they swirl in parallel.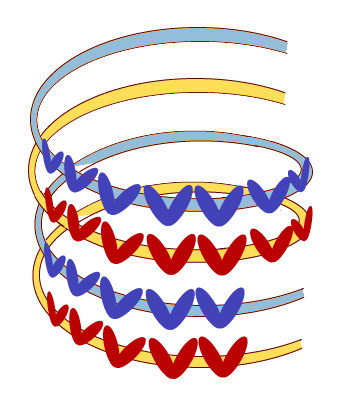 And each coil can be a different color. And there can be more than two! And round and round each will travel, entirely continuously, without any jog, forming stripes of different colors.
– – – – – – –
I first came across the notion of Helix stripes in Montse Stanley's Knitter's Handbook
eons and eons ago. She writes:
Helix stripes

A truly ingenious way of avoiding steps at the start of the rounds and having to carry yarns at back of work, when knitting one-row stripes in circular knitting.

Divide the work into as many, roughly equal, groups of stitches as colors you want to use. Either put each group on its own double-pointed needle, or use needle markers if working with a circular needle. Work 1st group in 1st color, 2nd group in 2nd color, etc.

Work next round similarly, but using the colors as they come – 1st group with last color from previous round, 2nd group with 1st color, etc. Repeat. If working in this way right from the start, cast on each group in a different color.
I accidentally "fell into" the genius of this technique when designing the Art Deco beret. I was using two balls of yarn – one with beads, and one without – and had to alternate them on every round. Somewhere my "twist the yarns in the back to avoid holes" went wrong, and I was suddenly spiraling! Knit one round, pick up the other yarn, knit another round, pick up the first, and so on. Helix stripes à la Montse! No jogs, no holes, no twisting, nothing. Nothing! No tangling, either, since the yarns travel above and below one another, never across. It was so cool.
And what a clever, clever way to use up leftover sock yarn! Perfect stripes, no jogs, and the color combinations are endless.
Do you now see why I referred to the way I knit socks as a determinant of the number of colors I would choose from my pile? Since I love to use 5 dpns, it makes sense to use 4 different colors! Of course I could use more or fewer… or even two balls of the same color one right after the other for a double-thick stripe… but I'm getting ahead of myself here :).
Although I was leaning towards the pinks and reds at first, I decided to use the combination of natural, lilac, navy, and blackberry for these socks. I've weighed the yarn I'm using, and will definitely let you know how much of each color gets eaten up. This information is as much for my benefit as anything, since my navy leftovers are quite limited and I want to make sure I don't run out. Or maybe the second sock will stripe lilac, blackberry, and white… only three colors. That would be quite comical!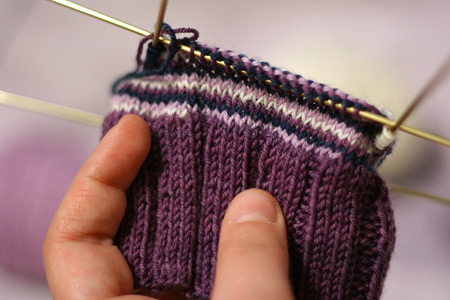 The pattern itself is basic – CO 66 sts with blackberry, work K4, P2 ribbing for 20 rounds, divide sts into groups of 16 or 17 and start the spiral! A short-row heel and plain toe will follow, also in worked in blackberry.
In the photo above, can you see where I started the lilac and natural spirals?
10
likes