Despite my best intentions, my String Quilt Set on Point is as incomplete today as it was more than a month ago.
I enjoy sewing so much, yet I hardly ever find myself actually doing it. I ask myself, why is that so?
It's not an issue of inspiration. Over the past half a year or so, I've started to collect back issues of Quilts Japan, most of them from eBay. These magazines are filled to the brim with inspiration: quilt block construction, designs and patterns, color combinations, and everything in between.
It's not a matter of time – I find time to knit, so why not sew? Nowadays I actually have more than enough time on my hands (oh, unemployment, I heart you and hate you at once). Plus I have my sewing class – that ensures that I get behind the machine at least once a week!
Partially, my equipment (or lack thereof) is to blame. My $88 Singer is a trooper, and has always performed the best that it can, but it's not a machine which can handle serious sewing. It has always had tension issues, and at best the bobbin side of the sewing looks "passable". If several layers of fabric are involved, or I'm sewing something heavier, the wrong side looks awful. For a long while now I've been contemplating an upgrade – a workhorse Elna, Bernina, Pfaff, etc. – but my budget absolutely cannot accommodate such a purchase. I should investigate one of those "Contribute to Kathy's Elna fund" buttons on my sidebar ;). Until then, the Singer will have to do.
The real hindrance to my productivity is my lack of dedicated sewing space. I have only one desk in my tiny 386-square foot apartment: it's a simple table from Ikea, about 36″ X 24″ in size. I know its dimensions because the tabletop is almost the exact size of my 36″ X 24″ Olfa mat. But on a typical day, my sewing machine is nowhere near this table. To put it there, I first have to clear off all the junk.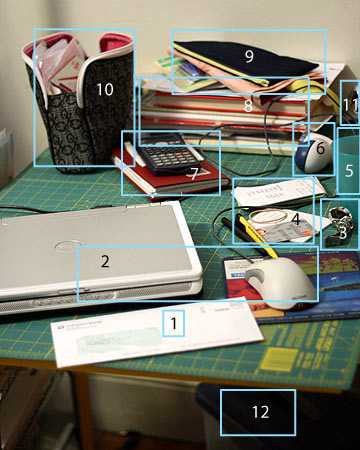 the mail
my computer and mouse
my watch
notes, pens, miscellaneous stuff
drinking cup
sweater shaver
calculator and accounting book
pile of papers and books
sewing project
knitting catch-all – patterns, notions, and other miscellany
computer speakers
under desk – yarn storage
What's worse, I have to put all that stuff back on the table after I'm done with the sewing! Oh, brother!
Is it any surprise that this set-up is entirely counter-productive?!? And that knitting, which can be done in nearly any space, is my predominant hobby?
If you live in a tiny apartment, how do you manage your space-occupying activities, such as sewing, spinning on a wheel, weaving, etc.? Do you have dedicated space for these hobbies, or end up assigning multiple uses to whatever little space you have?
0
likes