Simply put, intarsia is consuming my life.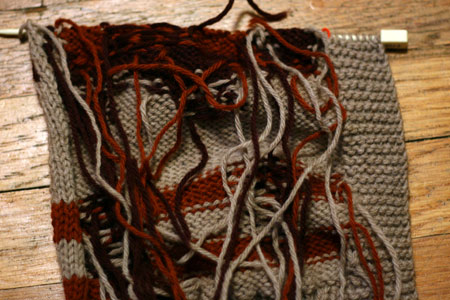 I never made any pretense that I like knitting intarsia. There are more fiddly techniques (cough Magic Loop cough), and less fiddly ones (stranded knitting in the round), so intarsia is somewhere in the middle of the annoyance scale for me. I like following the charts, I don't mind weaving in the ends and straightening out the design (at all), but the whole "a strand of yarn for each color section" gets me all discombobulated.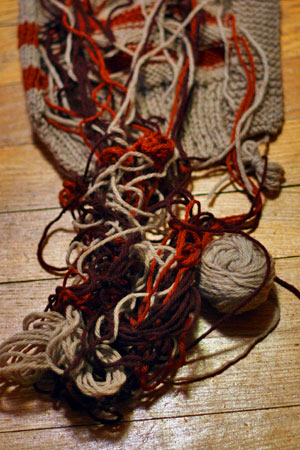 Behind every gorgeous buffalo is an unrivaled tangle of yarns. That's the bit that kills the loveliness of intarsia for me. I've tried using bobbins to keep the strands apart, but they just don't work for me. They feel like someone is sitting on my bag of yarns and I have to fight their weight to get out every single inch!
So, I let the strands tangle as they will, I let entropy rule, I yank and I coerce, and sometimes I join a new strand rather than untangle… and then I gleefully cut off the whole ugly mess after the intarsia motif is done. And into the trash can it goes!!!
What aspects of intarsia, if any, do you enjoy making? If you don't like any aspects of the process, what would convince you to knit an item with intarsia motifs?
0
likes