Have you ever started a cabling project only to discover that your yarn choice was all wrong? Your cables faded into the background, or were just unbearably limp and flat? Your stockinette, while smooth and drapey, didn't have the promising stitch definition that would suggest gorgeous cables?
A pleasant contrast: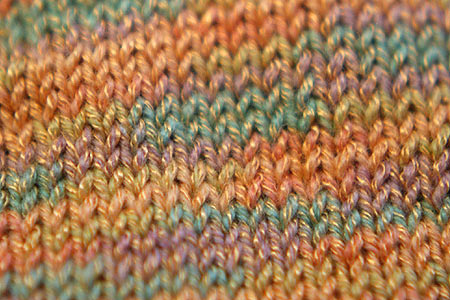 Crystal Palace
Panda Wool
| 51% bamboo, 39% wool, 10% nylon |
Basil Curry
colorway (0443)
In The Knitter's Book of Yarn
Clara Parkes explains that cabled yarns, such as Panda Wool, have "incredible stability and the strength to withstand far more abrasion than their once-pied counterparts." Thus, she endorses the use of cabled yarns for socks and says that they "truly excel in rendering cables and more complicated stitchwork."
You mean, a most excellently defined ribbing?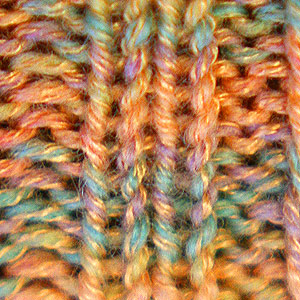 And heel gussets to make one weak in the knees?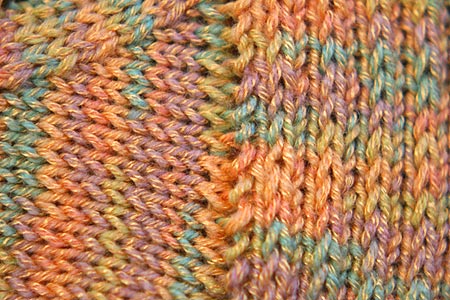 Yes, indeed!
How do you know if the yarn you have slated for your next cabling or sock project is "cabled"? Well, it has to be made up of "multiple-plied yarns that are then plied together." Check it out!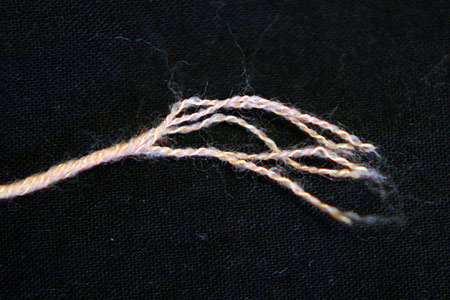 Postscript: Panda Wool is technically a "multi-strand" not a "cabled" yarn, though the properties of the two are the same for our purposes. To read up on the difference, check out page 177 in Clara's book. Also, apologies for taking so long to mention The Knitter's Book of Yarn
– though released months ago, I bought my own copy only recently. Before I was borrowing my library's copy, which was always recalled after only a week or two :).
0
likes