A friend's bridal shower registry contained all kinds of foreign-to-me objects: a trivet, a plate stand, pot and pan handle grips, an avocado slicer, a probe thermometer, a microplane grater (actually, I know what that is, if only because dark chocolate shavings on top of everything is a life necessity)… you get the idea. Clearly she's into cooking, while I'm into… crafting! We all have our different skills and passions ;).
It would have been perfectly fine if I got her some of the gadgets on her list. But I decided that putting a crafting touch on some kitchen linens would be even better. It would allow me to connect our two passions – I would make something that my friend would use in her kitchen. It's a win-win!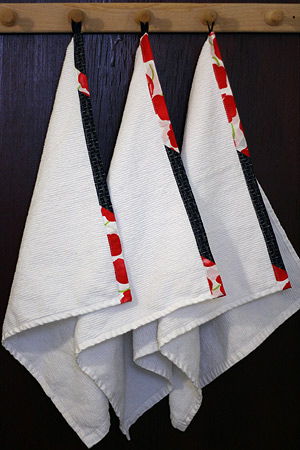 I got a set of three bar mop towels, and tipped them with some fabric along one of the short edges.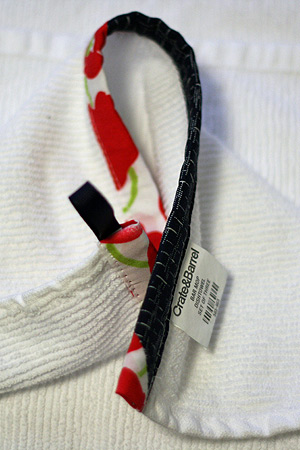 I used a navy blue cotton and a white-red cotton blend, cut the fabric into strips along the crosswise grain, joined them on the bias at random intervals, and attached the tape to the towels following angry chicken's brilliant bias tape tutorial.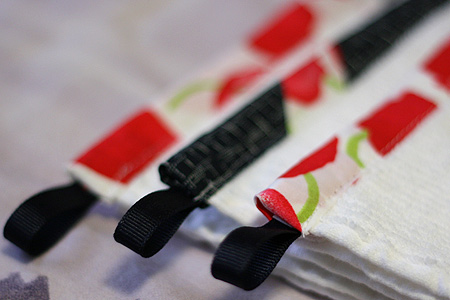 While sewing, I slipped in a length of grosgrain ribbon to make a hanging loop, and sealed the ends for tidiness.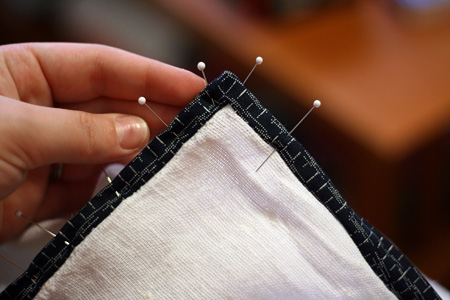 At the moment I'm working on a similar embellishment for a set of linen-cotton dishtowels. I really like these – the fabric is rustic and highly textured, but it softens up after every wash. I think these dishtowels would make great casual dinner napkins, actually.
Here I'm attaching the binding a little differently: I'm using the French double-fold binding technique described in Machine Quilting Made Easy
by Maurine Noble, which I referred to last time.
This book warrants a second mention – I really love it. It is small (only 60-odd pages) and topical, written in an entirely understandable language with simple and clear diagrams. It has so many practical tips – how to join pieces of batting, when to use decorative threads and how to adjust your machine's tension when you're using them, how to make a streamlined and smooth quilt sandwich, which quilt lines need to be stitched first, and the right way to "stitch in the ditch" (I won't even admit to my former misunderstanding of this technique – it's shameful).
I don't know if the other books in The Joy of Quilting series are as good, but I requested many of them via inter-library loan, so I'll find out soon. A Perfect Match
and Happy Endings
are already here, waiting to be picked up.
I will tell you more about this second set of dishtowels once I'm done with them. Like all works-in-progress, I'm modifying the precise way in which I'm doing things as I go along, from one napkin to the next ;). So, please, stay tuned!
0
likes