When your trashcan looks like this,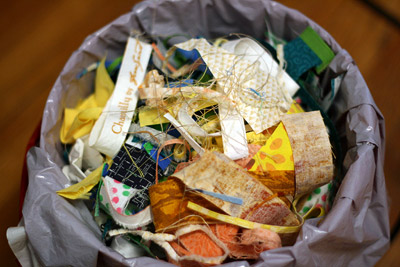 and your desk looks like this,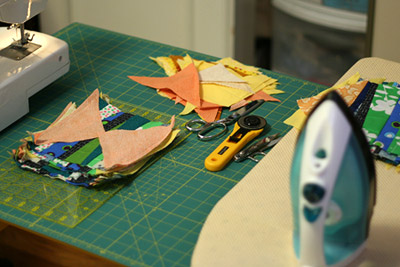 it means some quilting is in the works!
Lately I've been quite good at controlling my yarn stash, but all hell breaks loose when I go shopping for fabric. If I need 1 yard of cotton for a new ironing board cover, I walk away with no fewer than 5 yards of various fabrics, plus some thread, and sewing machine needles.
But I hardly ever use my fabric! I make little things: some clothes, little toys, accessories… the input into the fabric stash is definitely higher than the sewn output!
So I decided it was time to make something BIG. Something that would actually put a dent in my stash! My very first quilt! Only one (self-imposed) rule: all fabric comes from the stash*.
I decided to make String Quilt Set on Point from Gwen Marston's Liberated String Quilts
: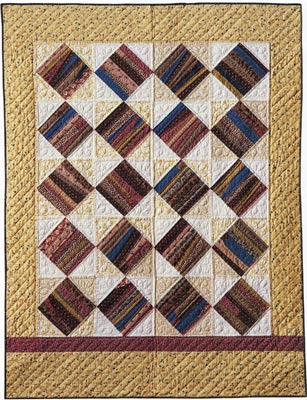 Gwen is an advocate of "doing whatever feels right," which doesn't entirely jive with my personality :). But in this book, the instructions are quite precise and the quilt has a structure that I find very pleasing.
I was also very much inspired by the Lopsided Logs Quilt in the sadly out-of-print Liberated Quiltmaking
: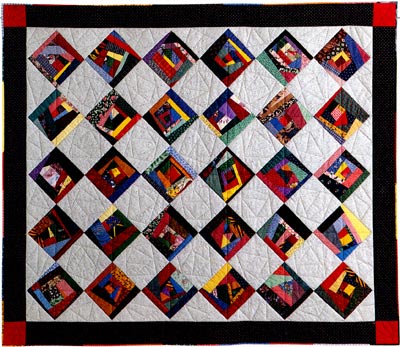 You can see that it's the same idea: patchwork squares set in a diamond-like arrangement, except here the squares are log cabin rather than string.
Gwen Marston's books are inspiring for many reasons: (1) the quilt blocks are constructed beautifully and creatively, (2) the sheer volume of work is striking – "Oh, look, this book has 50 quilts all made and hand quilted by Gwen herself!" and (3) the author's color sense is amazing.
When we're instructed to work with 8 or 10 or 15 different fabrics, and they are all cut up into little strips, the colors can become overwhelming. How do we make it look colorful, but not garish? Interesting, but not discordant?
Gwen has no problem in this area, and all her quilts are marvelous. She's a pro, after all! Me? Not so much. I'm constantly concerned about the combination of colors, especially because it's sometimes hard to tell what the end product will look like until… the end! It's quite nail-biting!
Take a look at some of the squares I whipped up for my quilt.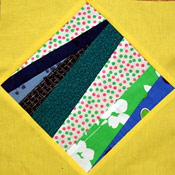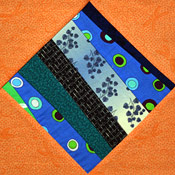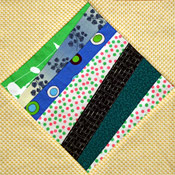 As you can see, I went with greens and blues for the string block, and yellows and oranges for the borders. I actually wanted something a bit more subdued for the borders – similar to the gently-patterned white and yellow in the original – but didn't have anything quite like that in my stash. So, I made do with what I had. I just hope the finished quilt won't make me want to poke my eyes out! Aye caramba!
(The fabrics? Yup, you've seen some of them before, here, here, here, and here.)
*Now that I'm well into the project, I've amended this resolution to allow buying some fabric for the back of the quilt: I'm running out of complementary colors!
0
likes