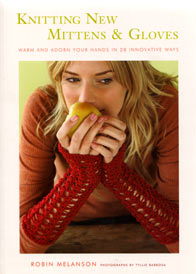 Ever since my unabashedly glowing review of Knitting New Scarves
, I've been stalking the next book in the "Knitting New" series like a bird of prey. Kntting New Mittens & Gloves
by Robin Melanson arrived at my doorstep just a few hours ago, and (wow wee!) I have to tell you all about it.
The book is organized just like Knitting New Scarves. Each pattern is comprised of the author's description of the design, a diagram illustrating the basic geometry, a fantastic photograph (or several), and well-spaced, unhurried knitting instructions. There are a few "traditional" patterns, but somehow, somewhere, by some mysterious force, Robin Melanson was able to whip up a bunch of truly innovative designs. Just take a look!

My favorites (click for bigger):
I'm envisioning the Glaistig fingerless gloves (left) in a rose-colored silk, for when I'm feeling lady-like. Rusalka fingerless gloves (middle) are adorned with bugle beads, and the word means "mermaid" in Russian. Need I say more? Ceangaltas mittens (right) have a fancy knot which is continuous with the edging!
Three favorites, all green. Hmmm… But, yes, there are other colors represented in this book! (click for bigger)
Lovely, aren't they? I checked Melanie Falick's blog, and she hasn't mentioned this book there yet. But I suspect a knitalong and gallery will be on their way shortly…
0
likes