Remember when I hinted-promised-threatened that I'd knit you a sweater? Did you think I was kidding? I wasn't!!!
I was approached by Cari at the end of December, with a request to finish a sweater that her mother had once started. We chatted back and forth, and here I am: knitting a cardigan sweater! I can hardly believe it myself!
Fortunately, in addition to earning a little pocket money I'm also picking up a new technique: intarsia. My process knitter side is thoroughly satisfied, and my anti-product side is thrilled that the sweater will leave my house once I'm done.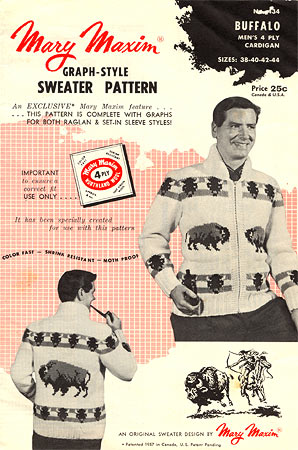 I know! You've probably seen that dude with a pipe on Stitchy's site at one point or another. But the way Cari's mom was working this sweater was a bit more refined – a slim-fitting raglan with fewer buffalo. In any case, I'm in it for the knitting, not the opinion-making ;).
This project is definitely keeping me on my toes. There's the pattern, Cari's mom's notes and graphs, the actual knitting she had already completed (a back and parts of two sleeves), and gauge to match…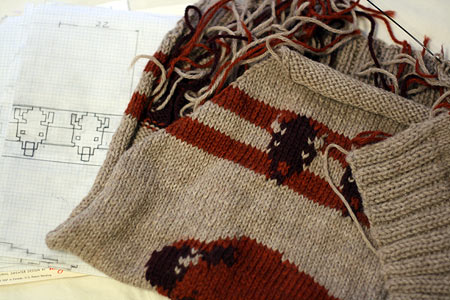 …my response to which is BRING IT! This is an adventure! And also, a little fear and GULP!
I started with mimicking some intarsia at the bottom of the sleeves. The bottom bit was knit by Cari's mom, and the top bit was knit by me.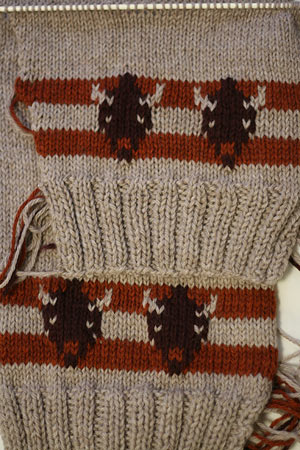 I think it's a pretty good match! I'm also certain that the yarn will block beautifully and hide many imperfections – it's Cascade 200, soft and lovely and forgiving.
So, tell me – am I an incorrigible process knitter, or what?!?
0
likes