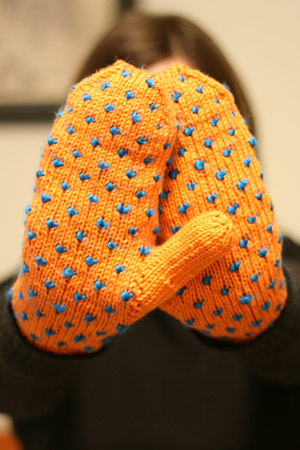 These mittens make me happy on so many levels – they are a vibrant antidote to winter, they were a textural sensation to knit, I worked with fiber (!) for the first time, and I learned a new technique in the process. But what makes them extremely special is that I get to be just like one of the girls! I, too, can wear thrummed mittens! Because mine are completely un-wooly!
(You can have un-wooly thrummed mittens, too – keep reading!)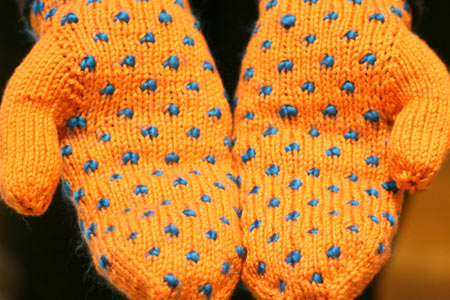 Pattern: Midwest-Style Thrummed Mitts by Amy Swenson in No Sheep for You
.
Yarn: Berroco Touché in Persimmon, 2 skeins.
Needles: Bryspun dpns, US 3. Knitting the worsted weight yarn on small needles not only got me the required gauge, but also created a dense, wind-proof fabric.
Extras: about 40 grams of 100% bamboo roving from Mind's Eye Yarns. I made each thrum a bit thinner and smaller than instructed in the book. Otherwise the knitting was rather cumbersome!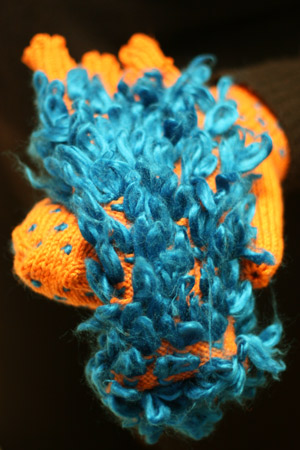 Bamboo fiber is soft, silky and smooth, but amazingly bamboo thrums have absolutely no intention of slipping out of their spots! Maybe it's the way the thrums are "woven in" in this pattern, maybe it's the matting and the mushing that happens every time I slip my hand in and out of the mitt, maybe the steam blocking had something to do with it… whatever it is, the thrums (all 320 of 'em!) are here to stay! And because I twisted each length of fiber before folding it into a thrum, there aren't loose floaters stuck to my hands when I take the mittens off.
And now, the good stuff.
After all was said and done, I had about 70 grams of bamboo fiber left over and no plans for it whatsoever. But… it's more than enough for another pair of thrummed mittens! And I have plenty of Berroco Touché (thanks, elann!), in two colors complementary to the blue fiber – Persimmon for a bolder statement, and Shiraz for something more subdued.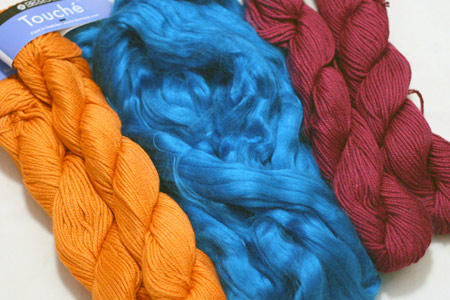 Want it? Leave me a comment for your own wool-free thrummed mitten kit! (you're on your own for the needles and the pattern). The winner will be picked at random, and will receive the blue bamboo fiber and 2 skeins of Berroco Touché in his/her choice of color. Comments will be closed on Thursday, January 24, at noon EST.
Update: comments have been closed, and this drawing is now over.
How's that for the first FO of the year?!?
0
likes