Nadia and I have something in common – we've both got some blue bamboo roving and orange cotton yarn to pet. Well, Nadia will have hers in a few days, but you know what I mean. Congratulations, Nadia!!! The random number generator picked you, and I hope you enjoy your vegan thrummed mitten kit!
And in a complete turnaround, my next project uses the wooliest, stickiest, sheepiest yarn I've ever touched!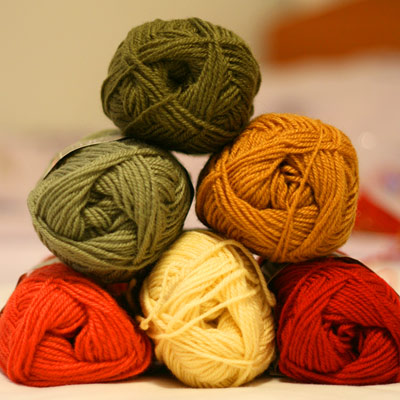 This is Norwegian 3-tråds strikkegarn av ren ny ull (3-ply knitting yarn, pure new wool?) produced by Raumagarn. It is the stuff included in Judy's Colors Red Velvet Christmas stocking kit, and it's even woolier than the Dale of Norway Heilo I used for my Kristen hat. The yarn strands stick to each other without any prompting, and frogging is like separating Siamese twins!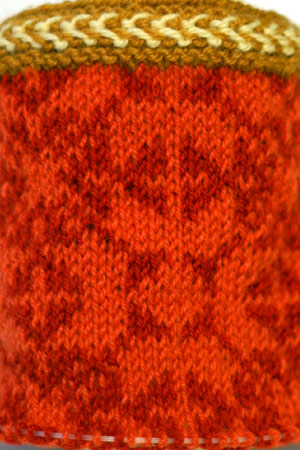 Not that I've had to do much frogging. The pattern is very clearly written, and I'm enjoying the simple colorwork on a single circular needle (Boye US 4, 16″
). I'm keeping the coral color dominant throughout (don't pull a Claudia – know your yarn dominance!).
I know – it's seriously ridiculunk. Such woolines, a month after Christmas, a holiday which I don't even celebrate. But ever since I saw these stockings… you know how it is.

A few darling friends recently told me that I make their day. Awww, thanks, guys! And although I'm not much of a meme-er, I'm always game for one which is specific to knitting.
Plus, I really want to return the sentiment. Remember when everyone was a Rockin' Girl Blogger? Well… I missed being tagged (pout), so now I'm making sure to tag a few of my bloggy loves. I've seen a few different variations of the rules, but I'll stick to this one: "Give the award to 10 people whose blogs bring you happiness and inspiration and make you feel happy about blogland. Let them know by posting a comment on their blog so they can pass it on."

(in alphabetical order)
100% Pura Lana My #1 favorite Finnish knitting blog. Love the colors of all the projects!
Domesticat Jealousy of the view from the rooftop deck + colorful knitting projects = bloggy love.
Karma Kitties I can't get enough of little June, especially when she's wearing handknits. Is it just me, or is that kid always ridiculously happy?!?
Knitting Daily Sandi Wiseheart handles reader questions with utmost grace – total respect. Plus the galleries of gals wearing real handknits are totally kick-ass.
Mari I've loved Mari's blog forever, and her recent hook-up with the the purl bee has only enhanced the diverse scope of projects featured on her blog.
Mustaa Villaa My #1 favorite Finnish knitting blog. Love the colors of all the projects! What?!? I can't have two #1 favorite Finnish blogs? Also, I like trying to pronounce mustaa villaa…. must-aaaaaaaaaaa, vill-aaaaaaaaaa.
nikki nimble needles Nikki doesn't have a blog (as far as I know), so I subscribe to her Flickr feed and enjoy her gorgeous yarns and projects that way.
Now Norma Knits When I came back from my holiday, I had 17 posts to read from Norma alone. Will Norma ever shut up? No. And that is why I love her. Also, Norma doesn't do memes. Ever! Unless she wants to. Just like me :).
Stash, knit, repeat Everything Amy knits is a winner! Her blog is gorgeous all over, as is her little redhead Jacob.
Tiennie knits Who doesn't love matching socks, hats, headbands, and fingerless gloves for the whole family?!? One day Tiennie's entire family will be all dressed alike in her handknits. It will be awesome!
Ladies, thank you for making my day! I read your posts with much pleasure :).
0
likes