Swinging in the hammock, knitting something mindless, savoring every minute of my honeymoon…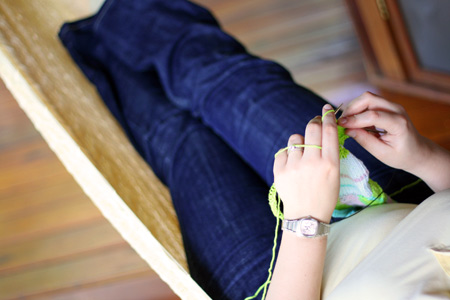 … before you know it, there's a pile of cotton fabric all knit up!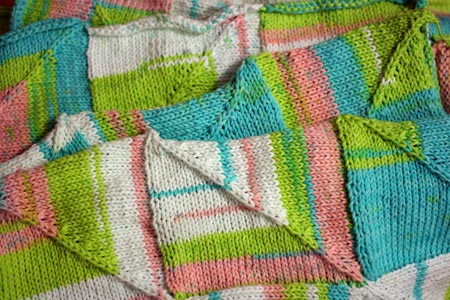 I've seen so many of you put together small, innocent mitered squares into gorgeous blankets and bedspreads. I admired you, but didn't take any further action – pretty, but not for me. That is until I saw Mari's gorgeous Jamaica Baby Blanket. The smaller size and random bursts of color spoke to me, and the contrast edging sealed the deal.
I bought four skeins of Katia Jamaica (color 4000), carefully read Mari's notes and modifications, consulted the actual pattern in Mason-Dixon Knitting
, looked over Kay's No-Sew Mitered Square Blanket tutorial, and at the end… what came off my needles was a whole new variation.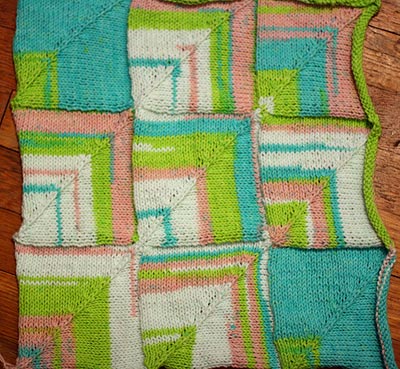 I wish I had some concrete reasons for my modifications, but it came down to: casting on on the Mass Pike, trying to sort through the decreases the night before the wedding, figuring out a way to reduce the number of ends and seams on a (very) early morning flight… you get the idea.
Like Mari, my miters are smaller (worked over 55 sts) and I attached them together as I knit them. But I have a centered double-decrease running diagonally across, and the order in which I attached one square to the previous one is different. I knit four squares like the one above using one skein of yarn for each. So, at the end, I will have only one "enclosed square", dead center in the middle of the blanket.
For the most part, Katia Jamaica behaved beautifully: I had to intervene in the natural sequence of colors only once. I did find a single knot in every skein of yarn, however. Since I was already weaving in all ends as I went along, I didn't let the knots get me down.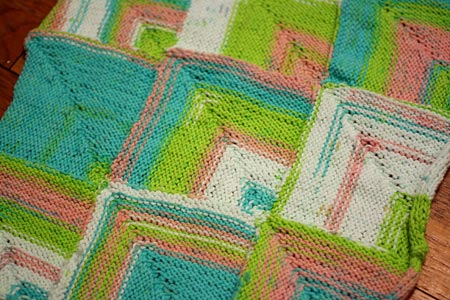 With blankets and throws, I like to make the back side look as attractive as possible, and I think weaving ends as I knit along made everything neat and tidy.
Seaming and attaching the border would have been (mentally) impossible on my holiday, even if I had finished all the squares (I hadn't). Those tedious tasks will have to be completed right here at home, and without a hammock to boot!
0
likes