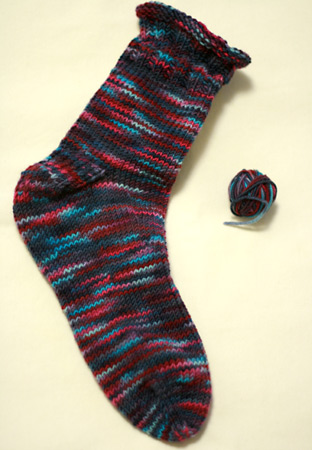 Well, I didn't run out of yarn.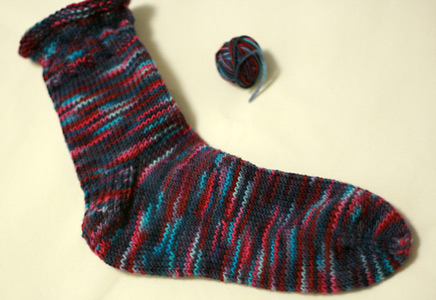 And though the bursts of color were sometimes "patchy," I wouldn't say the yarn pooled hideously.
I am very impressed with the roomy instep created by the Foxglove Master Pattern. It will be a blessing for grandma's ankles. I wonder if she'll like the fit of these socks any more than the others I've knit for her (remember: grandma claims every pair is her favorite).
And while I still have trouble following Ms. Bordhi's "grammar," if you will, I'm starting to feel more positive about the book
as a whole. For instance, the directions for making short rows – wrapping and then picking up the wraps – are worth their weight in gold (p. 14-15). I followed them exactly, even though they were a bit different than everything else I've seen, and ended up with the most gorgeous, even, inconspicuous short rows ever.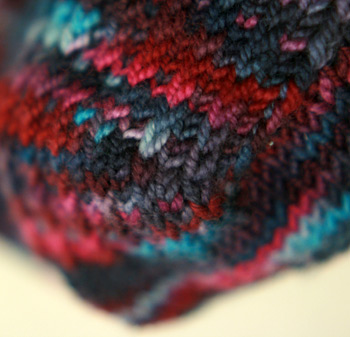 I know you can't see anything from that picture – I'm sorry! It's the colorful yarn and the fact that some of those stitches are slipped. I can't wait to use Cat's technique the next time I have to make short rows, and I'll show you more clearly then.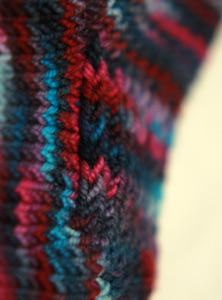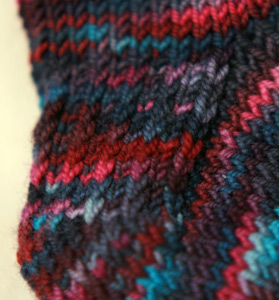 Also noteworthy: the way the heel flap is formed is pretty amazing. It doesn't leave even a hint of a hole anywhere… there just isn't an opportunity to make holes even if you wanted to do so!
0
likes