… or nonexistence thereof
For such an artistic, creative, hard-working bunch, our "logic" is sometimes baffling.
Let's take a look at a real life example.
A little while ago I got Cat Bordhi's New Pathways for Sock Knitters
. I was mesmerized by all the cool construction techniques and inventive shapes, but (and I'm being completely honest here) the format of the book didn't 100% jive with me. Although I can navigate the book, I find that the information is too scattered, in the physical sense, for my little brain. The cast-on is here, the increases are over there, the toe instructions are in the back, the pattern is somewhere in the middle, the explanation of master numbers is in yet another chapter, the instructions are all throughout… I can't really do it.
Logically speaking, I should have set the book aside until I could devote myself entirely to the study of Cat's principles. I know I can understand what she's talking about if I just spend a quiet Saturday afternoon reading through the whole thing, cover to cover. Did I do that? Nope. I continued to leaf through it, oohing and aahing, cursing my lack of time and discipline.
Okay, I know! I'll take the easy way out – just follow one of the pre-calculated patterns! I'm talking about the actual sock patterns, not the sock architectures. After several attempts to read through the book, I came to the conclusion that the patterns are heavily geared towards handpainted and variegated yarns. Great! Well, not really. I don't have any suitable yarn! Pooling bugs me in the "this is out of my control" way, so I simply don't buy variegated yarn! (I know I've said it before: the best way to avoid pooling is to use solid-colored yarn)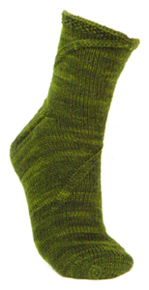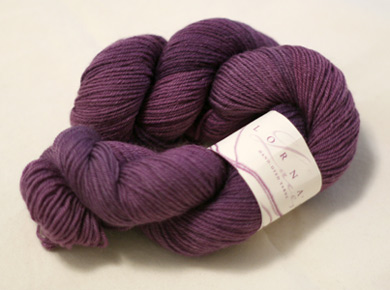 Logically speaking, I should have raided my sock yarn stash and swiped something solid or nearly-solid (plenty of that, believe me!), and knit the socks using that. Because, you know, I'm already having a tricky time following the pattern and grandma doesn't care what yarn I use, and wouldn't a Spiraling Coriolis like on page 53, knit out of purple Lorna's Laces (the gauge matches!), be the cutest thing ever? Uhm, no. That would be silly!!!
Actually, seeing the purple Lorna's should have immediately propelled me to my Nancy Bush library, logically speaking. Because those patterns always look so nice in the Lorna's, and I know the nomenclature of Nancy's sock patterns like the back of my hand. But that didn't exactly happen. Nope.
Setting all logic aside, I marched into Woolcott, and bought two skeins of Mirasol Hacho, which is a new-to-me brand. Very lovely yarn: sturdy and squishy at the same time.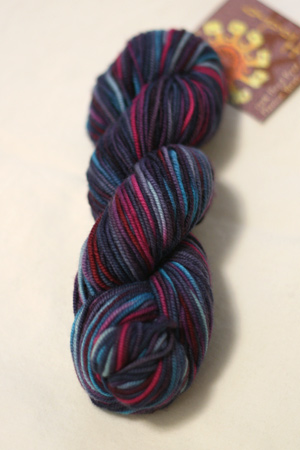 This shade I'm using, #302, is juicy, lively, and gorgeous. One thing it's not – my grandma's colors. Basically, it will be okay, but that bright turquoise and hot pink are definitely pushing her boundaries. Not to mention there's more than a small chance of hideous pooling, in which case I hope there won't be an outright rejection.
Hacho is a sportweight yarn with 137 yards in every skein. Logically speaking, I should have gone for a fingering weight yarn. Then the probability of knitting two full-sized socks out of two skeins of yarn would be a near certainty. But with sportweight yarn, it's always a bit of a gamble. Will two skeins of Hacho make two long-ish toe covers, or two actual socks, albeit anklets? Probability of running out of yarn: eh, likely. Woolcott has more, but my "logic" prevented me from buying a third skein at the time of purchase.
In summary, instead of knitting a Nancy Bush pattern using tried and true Lorna's Laces, I'm knitting a pair of socks for my grandma with the following characteristics:
they are from a pattern I have difficulty following
stash yarn is as plentiful as ever, but that's not what I'm using
I'm using variegated yarn, which will probably pool hideously
in a colorway that will be a stretch (at best) for my grandma
which is okay, since the yardage probably won't be sufficient for a pair of socks anyway
all while I have a gazillion of other WIPs
That's knitter's logic for you. I will knit what I want, no matter the likelihood of failure (dammit).
And don't even try to tell me I'm alone in my "logical" thinking and planning!!!
0
likes