This must be the softest stuff I have ever touched: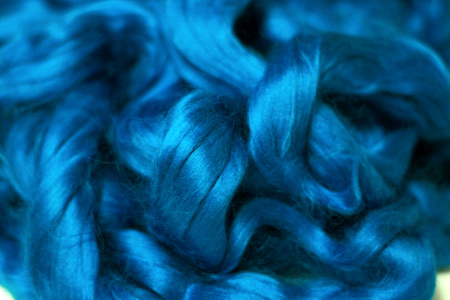 It's like the precious softness of a newborn baby's head.
It's like the softest depths of a kitty's belly.
And, no, I haven't developed an interest in spinning. But when I saw the Midwest-Style Thrummed Mitts in No Sheep for You
, it was a must-have situation. Cotton mitts with silk roving thrums – absolutely brilliant!
Unfortunately, I found the prices of silk roving a little hard to handle on a student's budget. Instead, Lucy at Mind's Eye Yarns hooked me up with some 100% bamboo roving, which I think is even better! Let's see… anti-microbial, moisture-wicking, breathable, and a renewal resource. And based on the vibrant colors I saw in the shop, it holds dye exceptionally well.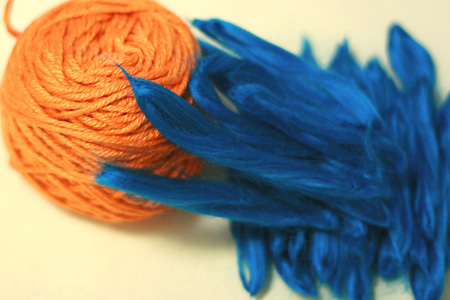 I decided to pair this rich turquoise-blue fiber with an orange yarn, a cotton blend called Touché from Berroco. You may remember this yarn from some shadow knitting attempts that didn't result in anything. But I think the thrummed mittens are a perfect use for it!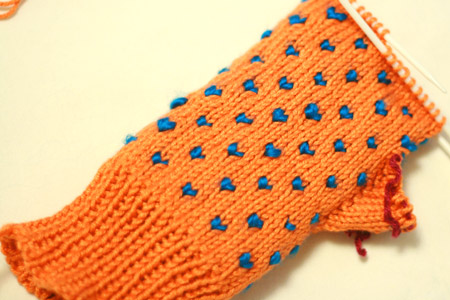 And the inside of the mitten? Oooo, I wish you could slip your hand into the bamboo-y goodness! The fiber is very smooth and silky, so some strands invariably get stuck between fingers and in jewelry. But the softness is divine!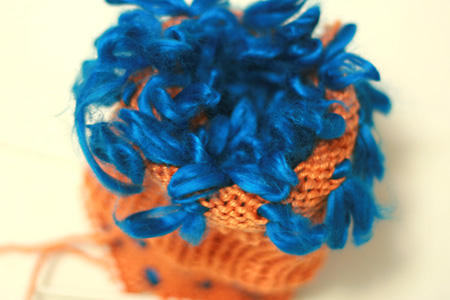 0
likes