Texture dominates Trinity stitch.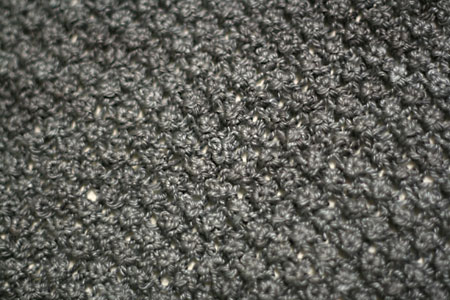 In the First Treasury
, Barbara Walker writes,
Trinity, Cluster or Bramble Stitch: This famous pattern is also (erroneously) called Bobble Pattern, and it probably has a few other names as well. It is one of the best of the "knobbly" texture patterns and is often used in panels to help embellish fancy-knit garments like fisherman sweaters.
I've flipped past this particular stitch pattern a dozen times, I'm sure. But never once did I look at it and think, hmm, this would be great for lace. Because… well, look at it! Does it look like lace to you?!? Good thing someone in the 19th century stretched it out, and, voilà! Observe the magic!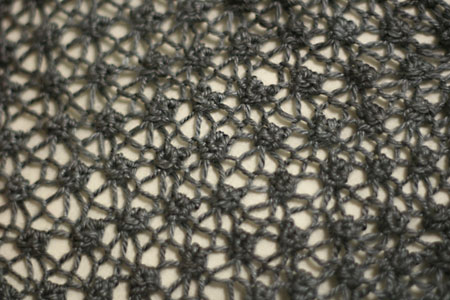 As I mentioned, there isn't a single yarnover to be had here.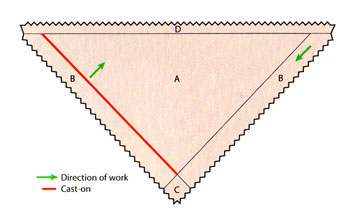 This shawl is constructed like no other I've knit, or even seen. I found it easier to understand the schematic if I flipped it on its side, such that the cast-on edge was at the bottom.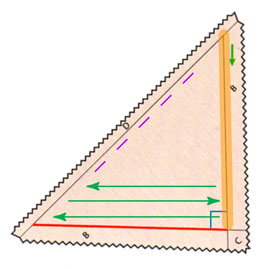 The triangle is constructed by working upward from the cast-on edge, making the decreases along the hypotenuse (purple), and forming a right angle between the two shorter sides (blue) (I can hear the number of commenters plummeting, hehe).
Now, the garter stitch issue I mentioned earlier. As written, the pattern advises you to make a garter stitch edging along the side of the triangle highlighted in orange. No slipping stitches or anything like that. And when I tried that, I could see that side of the triangle compressing and becoming extremely inflexible. Knowing that this shawl will need to be blocked severely, I decided that I could not have one entire side restricting the stretching of the lace. So after a few inches, I started over and now I slip (pwise, wyif) every first stitch of odd-numbered rows. This is creating a lovely chain of slipped stitches along the working edge, and I think it will be a-okay when time comes to stretch it out ;).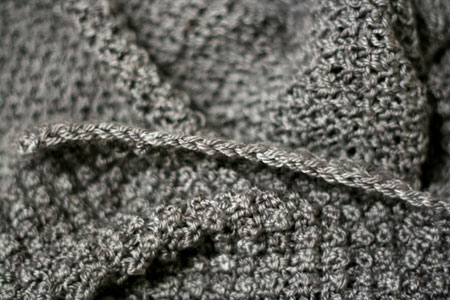 0
likes