… is that everyone is different.
Take this gorgeous sock that Elinor knit for me (scroll past the Sunrise Circle gorgeousness. Scroll. Don't fixate on the tweediness. Scroll, dammit!):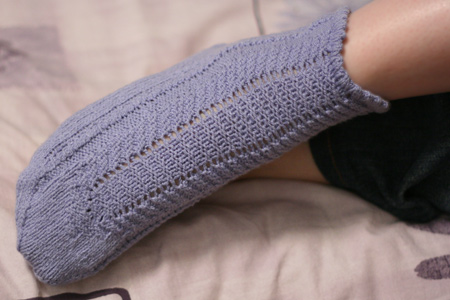 Petticoat Socks by Véronik Avery, Melanie Falick's
Weekend Knitting
I admired this sock on Elinor's blog when I first saw it – so cute! Now that I have it, the fit is so perfect! The style is such a great match to my wardrobe and the way I wear handknit socks! (and there were other gifts in the box!) So, of course I made it my mission to knit the second one exactly like the first!
Elinor told me that she used INOX US 3 needles, but when I tried that same size (and the same yarn, obviously), the second sock came out too big! So, I went down to 2.50 mm dpns – that's like a US 1.5 (INOX makes them, and I believe they label them US 2).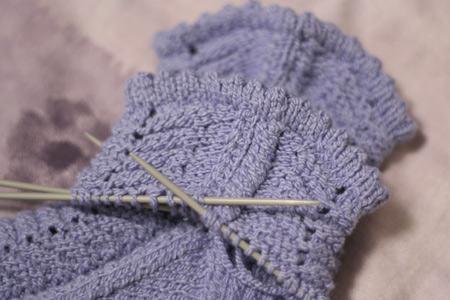 Having decreased the needle size, I think I'm now matching Elinor's knitting tension. I suppose that makes me… what? A loose knitter??? At least as compared to Elinor!
Then, remember the lovely poppy sock? Oh, poppy LL. I miss it so. Anyway… I used US 0 dpns, but Tiennie had to go up to a US 2 to match my tension! This, once again, makes me a loose knitter. I wonder what Claudia has to say about that? Claudia – me, a loose knitter???
There's no surprise in this observation. Each one of us writes differently, holds their fork differently, brushes their hair differently, flips the pages of a book differently… even if we're all using our hands and the same implements. Why shouldn't we knit differently?!? Just because we're using the same yarn and needles doesn't mean a thing!
0
likes