Publicizing my love for scarves reminded me to do an update on some of my current scarf projects.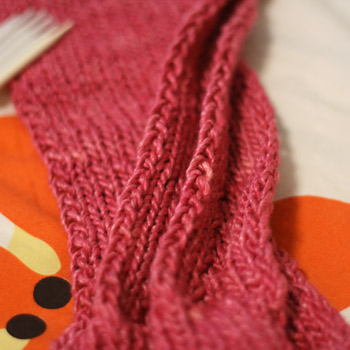 I know the first few inches of the Drifting Pleats scarf from Knitting New Scarves
looked really scary and uncomfortable, but trust me when I say, it only gets better from there!
Getting the Bryspun dpns and straights tremendously simplified my life. These needles are a bit grabbier than metal and significantly lighter, so I could actually hold up my knitting and knit normally… instead of wishing for a third and forth hand to support the weight of the clinking needle menagerie! Oh, and the tips: the tips are fabulous.
The pattern is ridiculously intuitive as long as you process the instructions instead of knitting blindly. There's a point in the pattern when the last pleat is merged into the background and, I swear, no amount of written instructions will clarify which needle goes where. But if you actually think about what's happening, you won't be tripped up.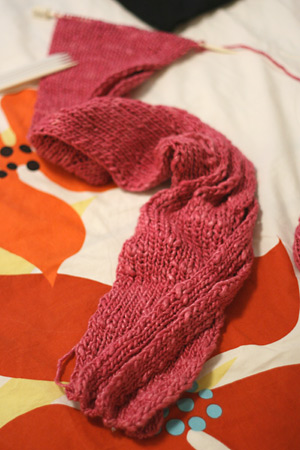 The Bryspun needles plus the great instructions, and I'm 2/3 done! Potentially I could have been even closer to finishing, but the third ball of yarn was stowed away in my carry-on bag and I didn't want to climb over people and interrupt beverage service to get it.
Oh yeah! Believe it or not, I managed knitting this scarf on an airplane! Standard issue coach-class window seat with all its physical restrictions, a gentleman sitting next to me, and I was still able to maneuver all the implements required for knitting this scarf! If that doesn't convince you of this scarf's simplicity, I'm not sure what other evidence I can offer :).
0
likes