The entrancing Ene concludes our FO Parade!
Did you notice how I wrapped up four projects in a matter of two weeks? This means two things: first, there probably won't be another FO for a little while. Second, I've had to take inventory of what's currently on the needles, and adjust my project load accordingly.
Tell me, can you see what's wrong with the following WIP line-up?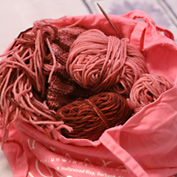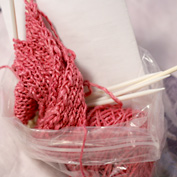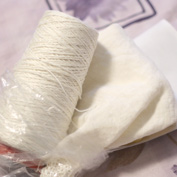 The first project requires its own tote bag, three balls of yarn, and scissors. The second project uses a menagerie of needles and takes more than baseline concentration. The third project evolves from a half-pound cone of yarn.
For someone who accomplishes a lot of her knitting on subways, buses, and while standing in line at the Post Office, none of these projects even approximate "portability." On top of that, there's an extensive trip in my immediate future! Airplane food and layovers, here I come!
So, without batting an eyelash, I cast on for a pair of socks.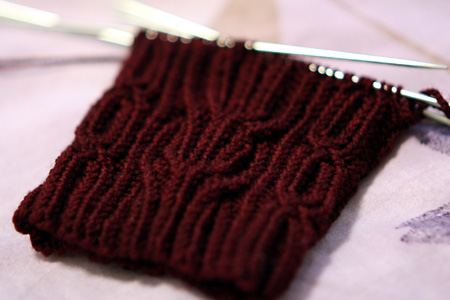 Another one from the Vogue Ultimate Sock
book – Bavarian Socks by Candace Eisner Strick. I'm using Koigu KPM #1160, a generous gift from Maritza. The color reminds me of blackberries or black raspberries, depending on the light. Or maybe the skin of red plums… you get the idea.
Incidentally, this is the precise yarn used in the pattern, and I'm using the recommended US 1 needles to boot. All of this is noteworthy because my typical combo of LL Sock and US 0 needles wouldn't have worked (I think) without modifying the pattern – the sock would have come out too small. But this… this is right on! The cables are perfectly squishy and not too stiff, the sock stretches to grandma dimensions, and the relief of the stitches seems right – they don't fade into the background.
And… if you can believe it, this is my first time ever knitting with Koigu. Gasp! So far, so good ;).
The pattern, in addition to being beautiful, is quite simple and intuitive. I'm doing the whole thing without using a cable needle, which helps me go even quicker.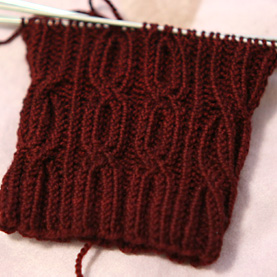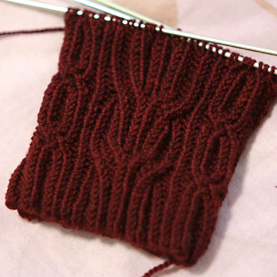 For those of you knitting along, I'd like to warn you about a potential error in the pattern. With multiple cables, designers typically take one of two approaches – either the cables are identical, or they are mirror images of each other. If you take a look at the chart and examine the smaller side cables (focus on rounds 4, 5, and 6), you'll note that these cables don't fall into either category. For identical cables, you'd have to change rounds 4 and 6; for mirror-images, you'd have to change round 5.
I e-mailed Ms. Candace Eisner Strick inquiring which of these outcomes she intended in her design. Without having the socks in her possession (they're at VK), she wasn't able to answer me. So, I studied the photo, I studied the cables in front of me which led to the initial query, and decided to make all the smaller cables identical. Specifically, the cable appearing left-most on the chart will be used throughout.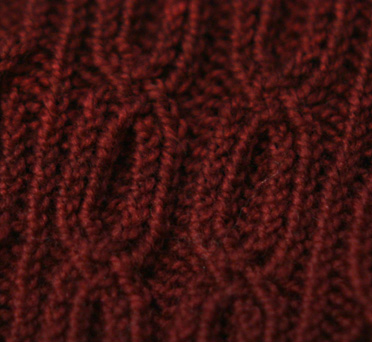 I think the coolest part is the way the "strands" of the cable intertwine in a basket weave-like fashion.
0
likes