I've been putting off writing this post.
Dreading, procrastinating, delaying… denying.
This gorgeous, stunning, delectable sock is on its way to the frog pond.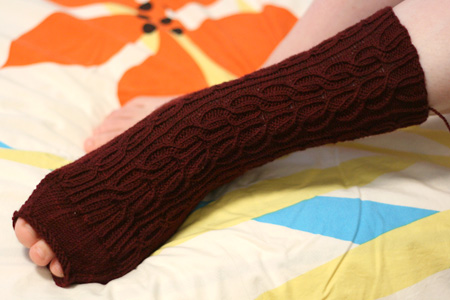 Bavarian Socks
by
Candace Eisner Strick
, Vogue Knitting's
The Ultimate Sock Book
Sigh, and rest in peace, little beauty.
The issue(s)? First I ran out of yarn (Koigu KPM, #1160, dye lot 41). The second skein is actually a few grams lighter than the first, so unfortunately I can't cannibalize a few yards to finish both socks.
Sidenote: I think when one is knitting such a heavily cabled pattern, for a woman with US 10-sized feet, one should stick to lovely yarns which come in 215 yard put-ups (lesson learned).
As I mentioned, the yarn is a gift from Maritza, who told me the following when I inquired about the origin of this Koigu:
I got the burgundy Koigu at Purl Soho. It was well over a year ago – a few months before we moved to Cambridge (maybe April of 2006). … I bought this at the shop, not the website, and stuff does move very fast there so I am not sure if they will still have it.
I contacted a few shops, and a few people who appeared to have Koigu #1160 in their stashes (via Flickr or Ravelry), but none of them had dye lot 41. As one helpful shop owner explained to me:
Koigu has VERY small dye lots and requires shops to buy the whole lot–which is just one bag of 18-22 skeins. So, if the place you originally bought it no longer has it, you are kind of out of luck.
Second issue: inability to locate more Koigu 1160/41. But I figured that's okay! These are just socks – I could buy a skein of 1160, any ol' dye lot, and finish the toes using that! And I was perfectly happy with that solution until…
Third issue: having seen my grandma just this past weekend, I naturally asked her to try on the sock-in-progress! (Grandma is doing very well, thanks for asking :)). And it was just too tight on her. Oh, woe is me! She tried to reassure me that the sock would stretch, but seeing that it took two pairs of hands just to get the sock on her, I beg to differ.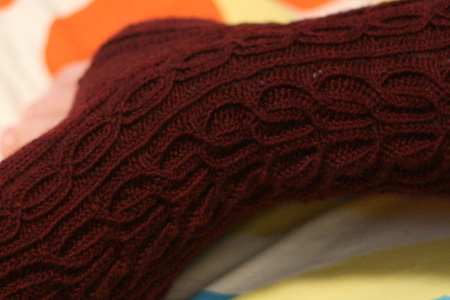 I think it just wasn't meant to be. It's a gorgeous yarn, and a gorgeous pattern, and my grandma is a gorgeous little lady (hee!), but the three are better off existing independently. I'm allowing myself to fret for only a second – Cat Bordhi's new book
arrived at my door step a few days ago, and my life won't be complete until I attempt one of these sock architectures! Koigu will look wonderful in one of those patterns, right?
0
likes