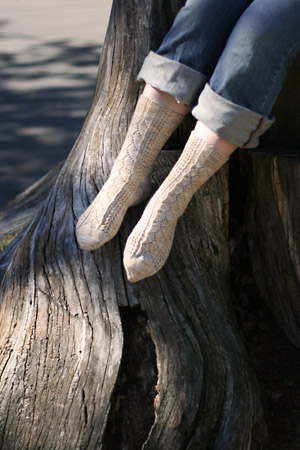 Let the season of sock-knitting for grandma begin! No, she hasn't officially asked for a pair, and no, she's not expecting to receive these. But the air is crisp, the leaves are turning, and I declare the season open.
Pattern: Merino Lace Socks by Anne Woodbury from the Favorite Socks
collection; originally published in the Summer 2003 issue of Interweave Knits.
The first printing of the book has a mistake in one of the charts – make sure to check the corrections! (p. 41 for this pattern)
Yarn: Fleece Artist merino sock yarn, ivory colorway, 1 skein. Purchased from Tidal Brook Yarns.
Needles: Susan Bates
US 0 dpns, set of 5.
I hope my interpretation of the pattern makes the socks more appealing than their photo in the book ;). It's a lovely pattern – pretty and easy to memorize, with the potential to shine even through lightly-variegated yarn.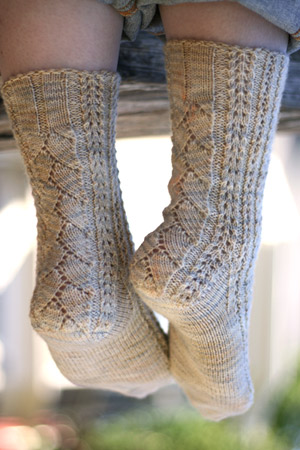 At the end, despite the pre-treating and soaking and scrubbing and spraying… the Gatorade-induced stains did not come out. They're quite visible on the first sock (on the right in the photo above), but the little orange bits knit into the second sock don't stand out. In any case, I'm not fretting because I know my grandma won't care ;).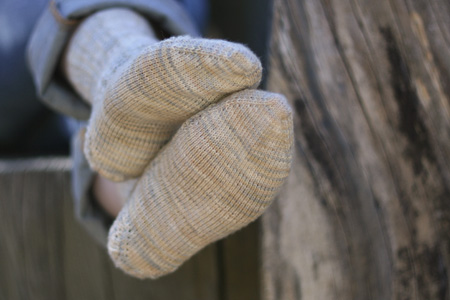 The yarn knits up wonderfully, and I'm happy to have worked with it for a second time. Do I favor it over Lorna's Laces? Mmm, probably not. Currently a certain poppy-colored sock is clouding my mind when it comes to all things LL ;).
0
likes